Despite the recession, some men will always need a Ferrari
CJ Hubbard examines the recession-busting appeal of the prancing horse
Ferrari's record profits show that tough financial times can't quell the desire in well-heeled individuals to own the world's most evocative sports cars but what's the secret of Ferrari's appeal? CJ Hubbard explains…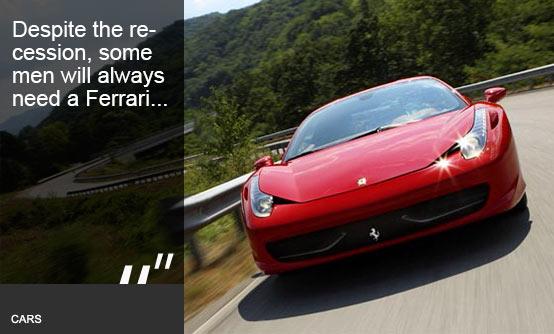 Yesterday Ferrari announced record profits, yet again. In the midst of such global economic gloom, where every bulletin appears to bring another bad news story, this may seem faintly absurd. Yet there are three simple reasons why Ferrari hasn't just maintained its position at the head of the supercar hierarchy, but actually expanded: innovation, emotion and heritage.

First drive: Ferrari California
This innovation and emotion is obvious in a current line-up of Ferraris that's more diverse than it's ever been. The entry-level – which is to say £150k+ – California is a folding metal hard-top convertible that remains a tantalising upgrade for anyone now bored with their Mercedes SL; and it only takes a short trip to realise just what an upgrade its snarling V8 really is, regardless of any protests from snooty purists.
"some rivals may be technically superior, none of them deliver anything like this car's degree of carnal satisfaction"

The 458 fulfils the role of Ferrari's traditional road-ravishing junior supercar with such a combination of passionate sensation and devastating finesse that even though some rivals may be technically superior, none of them deliver anything like this car's degree of carnal satisfaction. You don't just want to drive this car, you want to make love to it. It comes as a roadster, too.
First drive: Ferrari 458 Italia
First drive: Ferrari 458 Spider
Then there's the FF – the previously unthinkable four-wheel-drive Ferrari estate car. Nothing could seem further from prancing horse brand values, yet it uses a revolutionary lightweight all-wheel-drive system to deliver monstrous performance, and solves what I can only presume is a pressing problem among the elite – where on earth to put the luggage. Even the rich have families.


Ferrari FF: the supercar for the family
Most recent addition is the F12 Berlinetta – a machine that isn't just astonishingly fast but one that's transformed aerodynamics from the kind of clumsy looking work with wings that makes a modern Formula One car so ugly into something so incredibly sculptural its actually art. When this was unveiled at the Geneva Motor Show earlier in the year, screaming fans and prospective customers alike were captivated by the deeper complexity of a shape that at first glance seems merely simple and elegant. Innovation. Emotion.

"Wrap all of these elements up together and you've got an ideal that's not only packed with status but essentially unstoppable"

 So Ferrari is a brand that represents the very cutting edge. But this edge is merely the tip of a blade that scythes back though decades of history, founded on an unmatched pedigree of road and race success that forms the basis of its strength; take the consistent presence of Ferrari at the very top flight of Formula 1, for example, the world's richest and most glamorous sport.

Ferrari F12 Berlinetta unveiled
Wrap all of these elements up together – the innovation, the emotion, the historic pedigree and the racing success – and you've got an ideal that's not only packed with status but essentially unstoppable.

Where else in the motoring world can you find the added security of this kind of heritage in combination with such scintillating creativity? This is what keeps the customers queuing, in spite of potentially dangerous brand dilution that has lead to a Ferrari theme park in Abu Dhabi and a Ferrari merchandise store at many major airports.
And all of this is before the reveal of the next Ferrari hypercar – the Enzo-replacing mystery machine codenamed F70. Set to scorch the earth with over 800hp, it's also expected to feature an F1-derived KERS hybrid system and redefine our perceptions of what's possible within the confines of a road car. It's likely to debut later this month at the motor show in Paris.
It will probably cost close to £1 million – if not beyond. And I expect Ferrari has more orders than build slots already.


Follow CJ Hubbard on Twitter @ir_427


SO WHAT DO YOU THINK? WILL THE MIGHTY FERRARI BRAND CONTINUE TO DEFY THE FINANCIAL GLOOM? IS IT A GOOD THING IF IT DOES? TELL US IN THE COMMENTS SECTION BELOW AND JOIN THE DEBATE ON TWITTER WITH #SOCIALVOICES...
Welcome to #socialvoices. This is the home of sharp writing, opinion and social debate on MSN. Jump into the comments, tweet us with the hashtag. Join in.

Which of these endangered 1970s and 80s cars would you be saddest to see become extinct?
Thanks for being one of the first people to vote. Results will be available soon. Check for results
Austin Allegro

1,228 votes

Austin Princess

1,957 votes

Hillman Avenger

2,438 votes
Total Responses: 13,161
Not scientifically valid. Results are updated every minute.