MINI has lost its cool
The MINI brand is doing brisk business with more investment from BMW on the way but Ashley Winston thinks it's lost touch with its roots.
BMW has announced £250 million of investment into its MINI brand but is the extension of the range and the drive for bigger profits devaluing a British motoring icon? Ashley Winston thinks it is…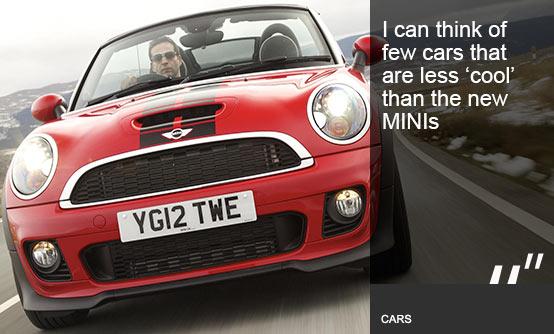 For three years following the launch of the 'new' MINI in 2001, I flatly refused to drive the travesty.
At the time I had a beautiful black 1994 original-shape Mini Cooper, and I loved it! As anyone who has ever owned an original Mini will tell you, it's hard to have as much fun in any other car that's actually usable every day.
I was absolutely convinced that the 'new' MINI was going to be horrid compared to my 'proper' Mini and so I boycotted the car… until one day in 2004 when I found myself in a MINI dealer asking for a test drive. And behold, it was good!

"Just like most of us, the MINI has got bigger over the years"
It was well screwed-together, fast, sporty and even a little comfortable, plus, there were lots of really cool retro touches. But what surprised me most was that it drove like a grown-up version of my classic Mini!
Just like most of us, the MINI has got bigger over the years. In 2006 it grew a little, but it's still cool. The problem is with all the variants.
The Clubman 'estate' car was OK… just. The Countryman 4x4 was not. I can think of fewer cars that are less 'cool'. The reality is that the MINI Countryman is a BMW X1 in drag. And as the reviews of the BMW X1 were very underwhelming, it's hardly a great choice to base a car on. Worse, it's not a 'MINI' – it's a 4m-long SUV!
MINI now make a hideous-looking Coupe and a bizarre Roadster. The Roadster is £700 more than the convertible, yet has two fewer seats – am I the only one confused by this? And while the brand's making money, each version moves further and further away from its cool roots and looks more like a mini BMW.
"If you make the MINI Rocketman, I will start to forgive you for your crimes against an icon"
Now MINI's parent company, BMW, is planning on investing £250 million in the brand, which could lead to them funding some amazing cars based on the original concept. But judging by MINI's recent track record and the increasingly ridiculous recent models, I highly doubt that's what will actually happen.
Will we get a BMW 3 Series-sized MINI saloon or hatchback? Will we get a massive seven-seat 4x4 MINI based on the towering BMW X5? I really hope not, but I wouldn't put it past BMW.
What I want is for BMW to produce the one car they promised but have so far failed to deliver: The MINI Rocketman. Barely any bigger than the original 1960s Mini, four seats and an amazing mix of the classic design with modern touches. A proper 'Mini'!
Mr BMW – If you make the MINI Rocketman, I will start to forgive you for your crimes against an icon… and I suspect many others will too.
Buy a classic Mini on Auto Trader
Ashley Winston runs the UK's leading car-sourcing company. He's also the world's biggest car nut (self-proclaimed, of course).

Follow Ashley Winston on Twitter
@thecarguru
SO WHAT DO YOU THINK? IS MINI STILL COOL OR HAS IT LOST SOMETHING UNDER BMW'S CORPORATE CONTROL? TELL US IN THE COMMENTS SECTION BELOW AND JOIN THE DEBATE ON TWITTER WITH #SOCIALVOICES...
Welcome to #socialvoices. This is the home of sharp writing, opinion and social debate on MSN. Jump into the comments, tweet us with the hashtag. Join in.

Which of these endangered 1970s and 80s cars would you be saddest to see become extinct?
Thanks for being one of the first people to vote. Results will be available soon. Check for results
Austin Allegro

1,219 votes

Austin Princess

1,943 votes

Hillman Avenger

2,422 votes
Total Responses: 13,041
Not scientifically valid. Results are updated every minute.