Nobody's happy with car insurance in the UK - even the insurers
It's unbelievable but UK car insurers haven't turned a profit for 20 years. What's going on?
UK car insurers haven't made a profit for the last 20 years. That's despite the apparent consensus of opinion among UK motorists that their insurance premiums are a monumental rip-off. Keith WR Jones gets to the bottom of the problem...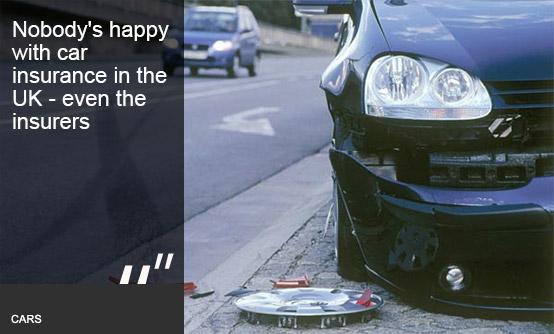 We've all been there, opening up the post from our car insurance provider, chin resting on the doorstep, our jaws having dropped at the temerity of NameYourInsurancePro​vider.com who has just upped our premiums again. 

Let's not pretend we're not by and large a nation of capitalists; we understand that businesses need to make profits. But with insurance premiums as high as they are, these guys must be raking in cash surpluses that'd make (formerly Sir) Fred Goodwin blush.
 


"Where's all the cash going then if not to line the pockets of insurance company shareholders?"
Not according to the industry itself, which claims that since 1994 it's paid more out in settlements than it has received in premiums. What's more, City analysts don't expect this situation to be reversed until, at the earliest, 2014.
Where's all the cash going then if not to line the pockets of insurance company shareholders? After all, drivers of every kind of car, not just Mondeo Man, are feeling ripped off.
The beleaguered industry points at another of society's pantomime hate figures – lawyers. More precisely, those specialising in no-win-no-fee claims where you're debilitated because of chronic whiplash. The most pain many motorists suffer at the scene of an accident is a twinge in the neck from pulling an underused muscle as they rubber-neck to see the unfolding drama on the opposite carriageway.
As Bob Dylan foretold, times they are a-changin' and from April 2013 stringent new legislation is being belatedly introduced to clamp down on the blame-and-claim culture that has infected British life. Will it work? Time will prove one way or the other but there's an opportunity here being wasted to introduce a wholesale regeneration of motoring taxation and insurance systems.
If we take a look at one of the far-flung corners of the Commonwealth, we find that New Zealand operates a system whereby victims of personal injury make their compensation claim against a central agency, rather than the party deemed to be at fault. The coffers from the fund come not from insurance premiums but from duty slapped on petrol and diesel.
"Remove the road fund licence disc from the windscreens of cars and replace it with a GPS device"


Britain's an indefatigable, enterprising nation, so any barriers preventing a similar system from being introduced here can't be insurmountable But why stop there? The technology exists finally to swap to a fairer mechanism for motorists based on distance travelled rather than cascading bands of CO2 emissions.

Remove the road fund licence disc from the windscreens of cars and replace it with a GPS device to track distance covered. The levies imposed would fund both the central pot of cash for compensation claims as well as haul back in revenue lost from the tax disc. The more you drive, the more you pay – that's fairer, surely?

Working groups of civil servants are already investigating the technology as a means to charge for road tolling in the future, so it makes sense to utilise more of its potential.
There you go: car insurance and motoring taxation made easy and lower premiums for all. Simples.

Keith WR Jones is a motoring journalist, authour and researcher. Follow him on Twitter @keithwrjones .

WHAT'S YOUR VIEW ON THE STATE OF THE CAR INSURANCE INDUSTRY? LET US KNOW IN THE COMMENTS SECTION BELOW OR JOIN THE DEBATE ON TWITTER WITH #SOCIALVOICES...


Welcome to #socialvoices. This is the home of sharp writing, opinion and social debate on MSN. Jump into the comments, tweet us with the hashtag. Join in.

Which of these endangered 1970s and 80s cars would you be saddest to see become extinct?
Thanks for being one of the first people to vote. Results will be available soon. Check for results
Austin Allegro

1,222 votes

Austin Princess

1,943 votes

Hillman Avenger

2,426 votes
Total Responses: 13,058
Not scientifically valid. Results are updated every minute.