If we privatise the roads, the cost of motoring will soar
A new CBI report recommends the privitisation of major UK roads to fund improvements. Ashley Winston says a European-style pay-as-you-drive road network won't work here…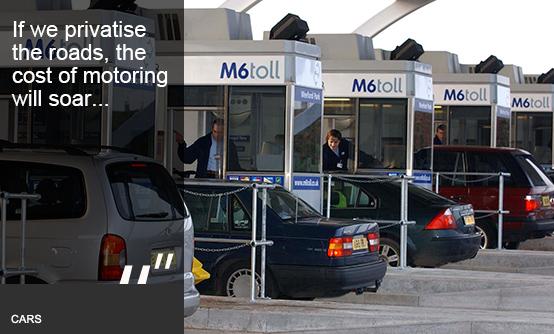 Earlier in the year my company had a request to source a very special car. A classic Mercedes SL.
What made the request even more special was the client was buying the car as a golden wedding anniversary present for his parents. And what made it EVEN more special was where it needed to be delivered to: Bordeaux, France.
There were some passionate debates in the office about which of our team would get to deliver the car, and at the time I wondered why we don't have similar conversation when we source cars for clients in Scotland. The answer is simple – French roads are better than UK roads.
I love the UK, but our roads are poorly maintained and severely congested when compared to those in much of Europe.


"...why can't the UK government fund our much-needed road expansion?"
It looks as if the Confederation of British Industry (CBI) agrees with this. They have just announced that they feel road privatisation is the way forward. This will mean a lot more privately owned toll roads criss-crossing our country in a similar style to France.
The CBI's reasoning behind this recommendation is that it claims UK businesses are losing £8 billion a year from road congestion. They think that this will rise to £22 billion by 2025.
The obvious question is why can't the UK government fund our much-needed road expansion? Greener cars are the problem, it's claimed, as they need less fuel and cost less to tax. Over the next 18 years, fuel duty income for the government is expected to reduce by nearly 30% and Treasury income from road tax (VED) may well reduce to a quarter of what it currently is.
But 18 years is a long time, and are we really expected to believe that fuel duty and road tax costs will not rise during this time, or even that the government will not find another ingenious way of taxing the motorist?
My biggest problem with private companies running major roads in the UK and charging a toll to use them is that the UK is not like the rest of Europe.


"Look what happened when we privatised the railways."
Road tolls may be common elsewhere in Europe, but most of these countries have a much better and cheaper public transport service. They have a genuine alternative, which we don't.
I am also concerned that we should learn our lessons from the past. Look what happened when we privatised the railways. Yes, the service improved, but at a massive increase in costs to commuters.
Don't get me wrong, I would love to have the kind of roads that we see in Europe, but the big question is whether it is worth the additional cost. Our trip in the Mercedes SL to Bordeaux cost £52.94 in tolls… I'm not so sure it was worth the money.

Business wants tolls to improve roads

Ashley Winston runs the UK's leading car-sourcing company. He's also the world's biggest car nut (self-proclaimed, of course).

Follow Ashley Winston on Twitter @thecarguru

SO WHAT DO YOU THINK? WOULD YOU BE HAPPY TO PAY TOLLS IF THE ROADS IMPROVED? CAN ROAD PRIVITISATION BRING THE IMPROVEMENTS WE NEED? TELL US IN THE COMMENTS SECTION BELOW AND JOIN THE DEBATE ON TWITTER WITH #SOCIALVOICES...
Welcome to #socialvoices. This is the home of sharp writing, opinion and social debate on MSN. Jump into the comments, tweet us with the hashtag. Join in.

Which of these endangered 1970s and 80s cars would you be saddest to see become extinct?
Thanks for being one of the first people to vote. Results will be available soon. Check for results
Austin Allegro

1,222 votes

Austin Princess

1,949 votes

Hillman Avenger

2,431 votes
Total Responses: 13,088
Not scientifically valid. Results are updated every minute.