UK car parking law is a mess but without it we'd have chaos
Parking controls are a necessary evil but proper legislation could make the system fairer for everyone says Ashley Winston.
A long-awaited shake-up in the UK's parking laws comes into force next week but experienced ticket-dodger Ashley Winston thinks the changes don't go far enough. He knows parking control is essential but it must also be fair…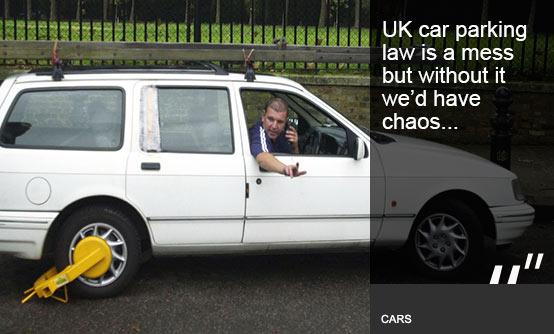 In 2009 I received 54 parking tickets - I paid two of them, and managed to get 52 of the horrid yellow stickers that appeared on my windscreen overturned.
The reason I was successful in quashing so many of these penalty charge notices is not just because I'm an obsessive little man with nothing better to do than study all the rules about car parking, but because all of these tickets were issued by local councils.


Most of us glare at any parking attendant that crosses our path but, as someone who has lived in a London 'residents parking zone' for over 10 years, I know that these Parking Control Officers (to give them their official title) are a necessity. Without them there would be chaos. People would park anywhere they wanted, leaving no room for residents, and even blocking roads.


"There's a massive difference between official traffic wardens and the private operators who often seem to operate above the law"
The key thing about the council ticket wardens is that they have to comply with a complex set of rules. These rules made it very easy for me to dispute so many of their tickets, having my complaints listened to and, for the most part, upheld.

I'm also fully aware that there's a massive difference between official traffic wardens employed by the local council and the private operators who often seem to operate above the law. I've consistently come unstuck trying to appeal my way out of trouble with these operators.

There has been a lot of pressure recently to put in place new measures that prevent rogue companies ticketing, clamping and towing away cars as they see fit. And, finally, starting on 1 October there is new legislation that is supposed to help protect motorists from the private parking control industry. Will it make private parking firms as fair and easy to talk to as the council-run operations? Will it help curb the worst excesses of the clampers? I'm not sure it will.
The new rules will prevent these private companies from clamping and towing away vehicles on private land. That's it. The big concern is that all this will do is make them change from clamping and towing to ticketing!

That sounds like an improvement but it means that instead of charging a hefty fee to remove a clamp or return an impounded car, they can just slap a ticket on the windscreen and demand the same extortionate amount as a fine.
"...a little more protection from those companies who refuse to play by the rules is not too much to ask"
Additionally, a new independent appeals service that is being set up to deal with private clamping companies is not actually binding on them all, so who's to say they have to abide by it anyway?
To be frank, the whole thing is rather confusing and not even part of the larger solution that everyone has been calling for. Even the British Parking Association (BPA) has branded these new rules a "recipe for confusion".
While I will fully admit that parking control is an incredibly complex subject, surely a little more protection from those companies who refuse to play by the rules is not too much to ask?

A regulatory body with real power to stop the excesses of private parking firms would be a good start. Such a body could enforce a set of rules and an appeals process to bring much needed fairness and transparency to the private parking control industry. It would also make my parking ticket dodging skills even more useful but I'm not holding my breath.

Ashley Winston runs the UK's leading car-sourcing company. He's also the world's biggest car nut (self-proclaimed, of course).

Follow Ashley Winston on Twitter @thecarguru

SO WHAT DO YOU THINK? ARE THE UK'S PARKING LAWS FIT FOR PURPOSE? WILL THE LATEST CHANGES DO THE TRICK? AND IF NOT WHAT CAN BE DONE? TELL US IN THE COMMENTS SECTION BELOW AND JOIN THE DEBATE ON TWITTER WITH #SOCIALVOICES...

New parking laws a 'recipe for confusion'

Welcome to #socialvoices. This is the home of sharp writing, opinion and social debate on MSN. Jump into the comments, tweet us with the hashtag. Join in.

Which of these endangered 1970s and 80s cars would you be saddest to see become extinct?
Thanks for being one of the first people to vote. Results will be available soon. Check for results
Austin Allegro

1,210 votes

Austin Princess

1,936 votes

Hillman Avenger

2,414 votes
Total Responses: 12,980
Not scientifically valid. Results are updated every minute.