Bring back the golden age of motoring
Empty roads, lower speeds, basic manners, driving a car was an altogether nicer experience in the 50s and 60s
Shell is bringing pump attendants back to its UK petrol stations but Ashley Winston would like to go further in recreating motoring's good old days...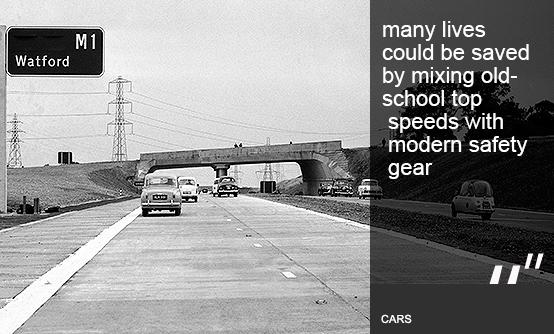 It's great to feel like a bit of a celebrity. Not long ago I pulled up at my local Shell petrol station and before I could even reach for the pump, a voice asked, "Hello, Ashley. How are you?"
It was my old friend Ivan, who used to work at my favourite local car wash. His next question caught me off-guard: "May I fill up your car for you?"
Only then did I clock Ivan's Shell-branded shirt and jacket and realise I was experiencing something not seen on UK petrol forecourts for a very long time. The legendary petrol pump attendant service!
It turns out that in the very near future, 300 of Shell's forecourts will have staff like Ivan, who'll even check your tyre pressures and carry out basic maintenance as well as pumping fuel. Personally, I think anything harking back to the golden age of motoring is wonderful. But it got me wondering what other motoring niceties we have lost over the years.


"Besides, old, slower cars are more fun..."
First, I'd bring back the fantastic cars from motoring's golden era - the 1960s... because they were slower. Controversial, I know.
When the motorway network first opened, many cars could not even achieve the 70mph speed limit. Now, even a basic specification Ford Fiesta will hit 94mph and a normal BMW 320d tops out at 140mph! But drivers' reaction times haven't improved, so there are still lots of accidents. Luckily better safety equipment has reduced serious injuries, but how many lives could you save by mixing old-school top speeds with modern safety gear?
Besides, old, slower cars are more fun. I had an absolute blast when I challenged myself to spend a month driving a 1992 Nissan Micra. I thrashed that little car as if I'd just stolen it, but due to its woeful performance I never exceeded the speed limit.
"I'd trade having someone fill up my petrol tank for fellow road users who were more pleasant."
Old, slow cars would also help solve a lot of current traffic problems too, although admittedly because they spend a lot more time at the mechanics...
But the one thing I would love to see again from the golden age of motoring is something that becomes rarer and rarer every year – common road courtesy. Patience, letting people out of junctions and respect for other road users seems to have been replaced by aggression, selfishness and the irrational need to be the car in front.
I'd happily trade having someone to fill up my petrol tank for fellow road users who were just a little more pleasant.


Ashley Winston runs the UK's leading car-sourcing company. He's also the world's biggest car nut (self-proclaimed, of course).   

Follow Ashley Winston on Twitter @thecarguru
WOULD YOU FAVOUR A RETURN TO MOTORING'S GLORY DAYS? WILL HAVING YOUR TANK FILLED BY A PUMP ATTENDANT MAKE YOU FEEL BETTER ABOUT THE PRICE OF FUEL? JOIN THE DEBATE ON TWITTER WITH THE HASHTAG #SOCIALVOICES
Welcome to #socialvoices. This is the home of sharp writing, opinion and social debate on MSN. Jump into the comments, tweet us with the hashtag. Join in.

Which of these endangered 1970s and 80s cars would you be saddest to see become extinct?
Thanks for being one of the first people to vote. Results will be available soon. Check for results
Austin Allegro

1,222 votes

Austin Princess

1,949 votes

Hillman Avenger

2,431 votes
Total Responses: 13,113
Not scientifically valid. Results are updated every minute.