Olympic lane chaos will backfire on BMW
BMW's Olympic sponsorship will become a PR disaster as its Olympic lane cars become the subject of Londoners' anger, says Keith WR Jones.
BMW pulled out all the stops to become the official vehicle supplier of the London 2012 Olympics but as its cars fill the Olympic lanes and resentment builds among gridlocked motorists could the deal become a PR disaster? Keith WR Jones thinks so.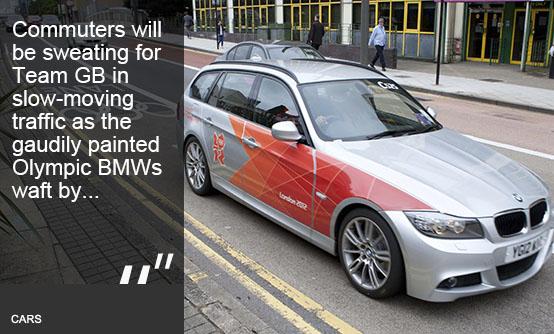 For millions the Olympics are the crowning glory of an ebullient year of British pride and pageantry. But for those of us not whipped up by Boris' unorthodox attempts at sports day PR, the Games represent a needless waste of billions at a time when we're told that the watchword is restraint.
As if that wasn't a bitter enough pill to swallow we're also bearing witness to the relentless pandering of corporate powerhouses as well Britain's regular gold medal-winning event: ballsing things up.

"has the Bavarian giant left itself wide open for a backlash in a rare marketing faux pas?"
With such ceaseless fawning to capitalist giants it's unsurprising there's a need for an official Olympics vehicle supplier. Britain has no sizeable indigenous car industry left, so who to choose to represent our once proud manufacturing empire? Surely, an overseas firm that had long-supported manufacturing here would be selected? Erm, no. BMW.
I'm not downplaying BMW's inward investment into UK PLC through MINI, Rolls-Royce and its engine plant but this is the same BMW that snaffled up Rover Group and ruthlessly discarded the parts it didn't want.
With the latest Games gripe being the 30 miles of special 'Zil' lanes that'll be used to shuttle Olympians and other VIPs between venues across the capital, has the Bavarian giant left itself wide open for a backlash in a rare marketing faux pas?
For the privileged few who'll use the lanes they make perfect sense, but what can ordinary commuters who'll occupy the same asphalt expect? At least a 30-minute journey time extension and the threat of a £130 fine should they dare to traverse the white line and sully the hallowed bitumen in their unofficial vehicle.
"Outraged drivers will shake clenched fists aloft at the passing entourage"
With summer finally making an appearance, commuters will be sweating for Team GB in slow-moving traffic, battling high temperatures and fraying tempers. Ah well, frowns'll be turned upside down when a gaudily painted Olympic BMW wafts by, easing their personal suffering by bringing a little psychedelic joy to the commute.
Like hell it will!
Outraged drivers will shake clenched fists aloft at the passing entourage, vehemently Tweeting their frustrations with their free hands, awaiting the RTing frenzy. Such chatter is impossible to manage; regardless of how effective the Ultimate Marketing Machine is otherwise, controlling social media is a black art. How long before an anti-BMW hashtag is trending?
BMW's biggest post-Olympic problem won't be reassuring customers they don't have to have theirs haphazardly daubed in yellow and pink but persuading them that they still want a BMW at all.

Keith WR Jones is a motoring journalist, author and researcher. Follow him on Twitter @keithwrjones .

WHAT DO YOU THINK OF THE OLYMPIC LANES AND THE BMWS DRIVING IN THEM? LET US KNOW IN THE COMMENTS SECTION BELOW OR JOIN THE DEBATE ON TWITTER WITH #SOCIALVOICES...
London 2012 Olympic lanes go live
BMW reveals official cars for the London 2012 Olympics
Olympic stars and their cars
Welcome to #socialvoices. This is the home of sharp writing, opinion and social debate on MSN. Jump into the comments, tweet us with the hashtag. Join in.

Which of these endangered 1970s and 80s cars would you be saddest to see become extinct?
Thanks for being one of the first people to vote. Results will be available soon. Check for results
Austin Allegro

1,222 votes

Austin Princess

1,945 votes

Hillman Avenger

2,428 votes
Total Responses: 13,066
Not scientifically valid. Results are updated every minute.