The £7m car – it's worth every penny
Most people won't earn £7 million in their lifetime, so to spend that on one single purchase – and a car at that – is obscene, right? Wrong, says Sean Carson.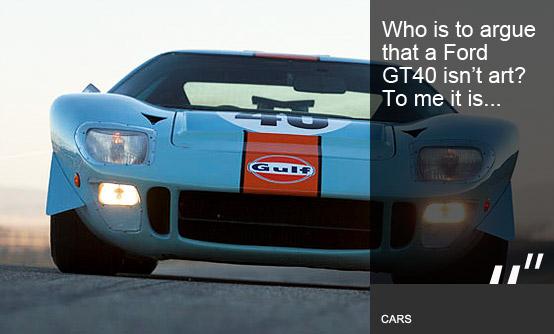 A classic Ford GT40 with unrivalled provenance sold for £7 million following last weekend's Pebble Beach Concours d'Elegance in California, marking an all-time record for the most expensive American car ever sold at auction.
Ford GT40 in $11m world record sale


To most of us, seven mil is a sizeable sum of money unless you've been the lucky recipient a Euromillions roll-over. So to spend it on a car is lewd, crude and possibly even offensive, surely?
Not in my book. I'm a car nut, so I'm biased I suppose. But, crucially, I wouldn't class myself as an art nut – at least not in the traditional sense of colour on canvas.
Who is to argue a Ford GT40 isn't art?
I appreciate art, but I wouldn't spend £7 million on a painting. Many would, however, yet they don't get chastised as selfish spenders – possibly because lots of art collectors will then put their prized pieces on show for everyone else to appreciate. Plus, a good amount of them are decent philanthropists that give charitably to, er, charity.
But who is to argue that a Ford GT40 isn't art? To me it is. The sculpture of its flowing curves have been penned by a human hand, the music its engine sings is like a chorus no symphony orchestra can play, and it's tangible and subtle to the touch, the aged texture of its leather and wood alive in your hands.
Does this not make it worthy of collector status?
Without getting too deep, art is personal to everyone and enjoyed in different ways by everyone. That's the beauty of the subject.
If the new owner of this one-of-a-kind GT40 enjoys driving it round the track at a classic race meeting, I'll enjoy watching – and hearing – him do it.
"The use of skill and imagination in the creation of aesthetic objects, environments, or experiences that can be shared with others" – that's how the Encyclopaedia Britannica defines art. In these terms, at least, the Ford is art.
As a proportion of what the guy – or gal – that secured the special GT40 earns, £7 million might be quite small. But even if it isn't, even if it's all the money in the world the individual had, it'll bring enjoyment to them and likely to most people who'll catch a glimpse of it.
For that, we should commend people who are willing to splash this sort of cash on a work of art, whatever form it's in.
Follow Sean Carson on Twitter @Carson_on_cars

SO WHAT DO YOU THINK? CAN A CAR BE CLASSED AS ART? AND DOES ANY CAR DESERVE TO BE WORTH THIS MUCH MONEY? TELL US IN THE COMMENTS SECTION BELOW AND JOIN THE DEBATE ON TWITTER WITH #SOCIALVOICES...
The most expensive cars ever sold at auction
The amazing $5 million Ford GT40s – take your pick
Welcome to #socialvoices. This is the home of sharp writing, opinion and social debate on MSN. Jump into the comments, tweet us with the hashtag. Join in.

Which of these endangered 1970s and 80s cars would you be saddest to see become extinct?
Thanks for being one of the first people to vote. Results will be available soon. Check for results
Austin Allegro

1,211 votes

Austin Princess

1,939 votes

Hillman Avenger

2,419 votes
Total Responses: 12,998
Not scientifically valid. Results are updated every minute.