Tata gambled buying Jaguar Land Rover but we're all winners
The latest results show business is booming for Jaguar and Land Rover. Keith WR Jones says the gamble has paid off for everyone.
With the news that Jaguar Land Rover's profits are up 34% to £1.5 billion, Keith WR Jones says there have been no losers since Indian giant Tata's takeover.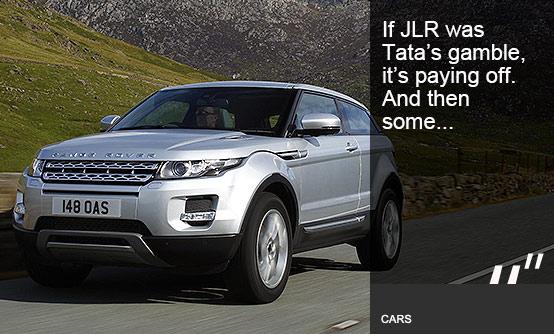 Chances are Tata's the biggest firm you've never heard of, yet the Indian multinational has permeated into our lives almost unnoticed.

It's probable you're reading this whilst drinking a cuppa from a Tata owned tea business, in an office complex built around Tata produced steel girders and outside, in the director's parking slot, a Jaguar XJ – the jewel in the crown of Tata's motor division.
Tata's automotive arm didn't have the best of reputations from its brief sojourns into the British car market; arguably re-badging the Indica supermini as CityRover was the final nail in the MG Rover coffin, such were its deplorable levels of sub-mediocrity. But Jaguar Land Rover was an altogether different proposition.
Previous owners Ford had actively developed tangible synergies between the two brands since 2002, so when Tata snapped the premium combine up for £1.15bn in March 2008, it was less of a gamble, more a very shrewd investment.

"Tata's automotive arm didn't have the best of reputations" 
 
The glamorous line-up of Jaguar Land Rover showroom candy you see today, drawing plaudits from the automotive press and admiring glances from Joe Public, is the motoring confectionary of Ford's outlay. The Land Rover LRX concept that begat the production Evoque first saw the light of day just before the Tata era began.

But Tata isn't simply basking in the glory of the Blue Oval's efforts, because under its custodianship, JLR is working with more autonomy and more importantly, isn't constrained by economies of scale basing cars so obviously on Ford hardware. Inaccurate accusation it may have been, the public perception that the X-TYPE was little more than a prettier Mondeo stymied its sales potential.


"Finally, the growler badge will adorn the grille of a car called F-TYPE"

Under Ratan Tata's Chairmanship, JLR has become confident, forward thinking and more creative in terms of achieving the volume to generate those sought after production economies. Multi-million dollar investments at the Halewood plant to churn out more Freelander 2s and Evoques creating several hundred new jobs, brings obvious benefits to Britain plc, whilst new plants in India and a US$3bn collaboration with China's Chery disseminate development costs.
The best news yet from Jaguar Land Rover since the Indian takeover? Finally, after several false dawns, the growler badge will adorn the chromed mesh grille of a car called F-TYPE. An iconic line reborn.
If JLR was Tata's gamble, it's paying off. And then some.


Keith WR Jones is a motoring journalist, authour and researcher. Follow him on Twitter @keithwrjones .

WHAT DO YOU THINK OF TATA'S STEWARDSHIP OF JAGUAR AND LAND ROVER SO FAR? LET US KNOW IN THE COMMENTS SECTION BELOW OR JOIN THE DEBATE ON TWITTER WITH #SOCIALVOICES...

  
Welcome to #socialvoices. This is the home of sharp writing, opinion and social debate on MSN. Jump into the comments, tweet us with the hashtag. Join in.

Which of these endangered 1970s and 80s cars would you be saddest to see become extinct?
Thanks for being one of the first people to vote. Results will be available soon. Check for results
Austin Allegro

1,222 votes

Austin Princess

1,946 votes

Hillman Avenger

2,430 votes
Total Responses: 13,079
Not scientifically valid. Results are updated every minute.