Enough is enough - there's too much technology in cars
Apple is set to integrate its Siri voice recognition technology into cars but as the gadget count increases are we taking too many safety risks?
At the recent Apple World Wide Developers Conference (WWDC) Apple announced that it is now bringing Siri voice recognition software to your car with 'eyes free'. Manufacturers already signed up to integrate this into their cars include BMW, Vauxhall, Mercedes, Land Rover, Jaguar, Audi, Toyota and Honda.
With Apple Siri and mobile internet creeping into modern cars, surely enough is enough. There are too many distractions for drivers and safety is being put at risk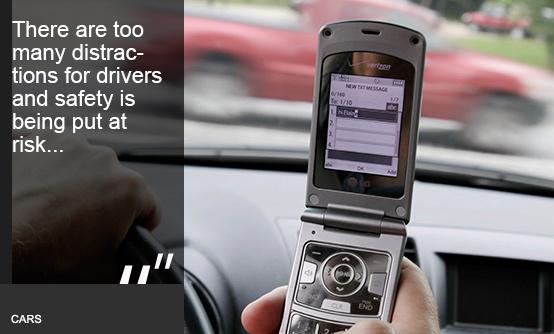 While cars have been a button fest for years, mobile internet brings a whole new dimension of 'infotainment', there's now access to hear and compose messages, and reminders, update calendars, browse websites and consume media. All while you are supposedly concentrating on the important task of actually driving.
"How many of us can say we haven't had a sneaky peek at our phones while at a set of lights?"


We're used to dealing with the distraction of talking to passengers or taking calls on the hands free, which is not exactly encouraged at the best of times. But at least they can respond to the visual and audio stimuli, whereas the 'infotainment' will carry on reading out your latest message, distracting you while the traffic all goes a bit mental around you.

Some of this technology is being touted as 'eyes free' with the phone screen staying blank while the vehicle is moving but how many of us can say we haven't had a sneaky peek at our phones while at a set of lights, or even while driving? Using more and more technology in the car just adds to the temptation and makes us more likely to take the risk.



"The best bet to keep everyone safe is to say enough is enough"


Even 'eyes free' systems can be bypassed. Current phones can easily and cheaply have their firmware hacked to add 'features' that will allow many more irresponsible drivers to re-enable the screens. The best bet to keep everyone safe is to say enough is enough and stop the tide of technology that's flooding into our cars.
Follow Jon Bradbury on Twitter @jonbradbury 
HOW MUCH IN-CAR TECHNOLOGY IS TOO MUCH? WOULD YOU LIKE APPLE'S SYSTEM IN YOUR CAR? JOIN THE DEBATE ON TWITTER WITH THE HASHTAG #SOCIALVOICES
Welcome to #socialvoices. This is the home of sharp writing, opinion and social debate on MSN. Jump into the comments, tweet us with the hashtag. Join in.

Which of these endangered 1970s and 80s cars would you be saddest to see become extinct?
Thanks for being one of the first people to vote. Results will be available soon. Check for results
Austin Allegro

1,222 votes

Austin Princess

1,949 votes

Hillman Avenger

2,431 votes
Total Responses: 13,095
Not scientifically valid. Results are updated every minute.