Olympic lanes should be used by us all
Ashley Winston questions why tax-paying motorists have to vacate the roads (they pay for) for the Olympics
As 'Olympics Lanes' start being marked out across London, Ashley Winston wonders if motorists should ignore the rules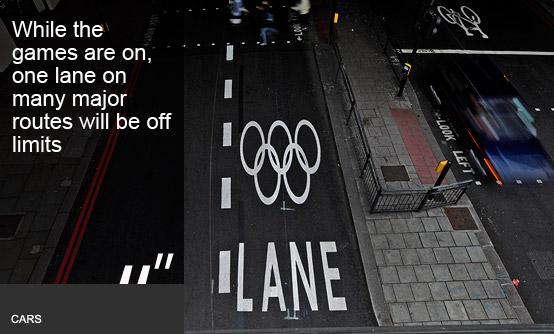 Is it very un-British to say I'm completely anti-Olympics? I didn't ask for them, I've no interest in them and when our economy's in trouble, spending £11bn on a recreational event is grossly inappropriate.
But I'm prepared to overlook all this as I know it's a once-in-a-lifetime event for many others.
What I cannot forgive is that for four whole weeks my west London-based business's costs will rocket and everything my company does will take twice as long. Simply because my car-finding business has to battle with the completely preposterous 'Olympic Lanes'.
Mark my words - it will be chaos
While the games are on, one lane on many major routes will be off limits as we're neither Olympic athletes, foreign dignitaries or major sponsors. I've seen what happens in London when one lane is blocked even temporarily - mark my words, it will be chaos.
What makes me even angrier is the fact we all pay a lot of money for road tax, petrol duty, parking and a million other unavoidable costs. And now we're being told we can't even use the roads? Isn't this like paying your council tax, then being asked to vacate your home for the summer so someone else can live in it?
I expect enforcing the lanes will be difficult
But while I can only wish they'd scrap them, I've had to think about my other options:
1) Use public transport – I'm certain both tubes and buses will be even more crammed than usual. I pay for the privilege of driving to avoid smelling like another passenger's armpit. Sorry, this isn't for me.
2) Leave longer for my journey – I know my clients won't appreciate being charged extra driver time. My newborn baby won't understand why she has to spend more time in her car seat either. Again, no thanks.
3) Boycott the lanes – this is what I'm instructing my team to do. If they get stuck in traffic and want to use an Olympic Lane, they can… and I'll pick up the bill. I suspect enforcing the lanes will be difficult for the authorities and I plan to make the most of that!
4) Employ a talented artist to paint gaping chasms on all Olympic Lanes so 'officials' are too scared to use them – OK, there are some practical issues here, but the idea makes me smile.
So I really only have one option – use the lanes anyway. But that will only really work if everyone joins in.
The real question is: Who's with me?
Ashley Winston runs the UK's leading car-sourcing company. He's also the world's biggest car nut (self-proclaimed, of course).

Follow Ashley Winston on Twitter @thecarguru

SO WHAT DO YOU THINK? ARE YOU GOING TO BREAK THE RULES OR WILL YOU JUST AVOID LONDON DURING THE OLYMPICS? TELL US IN THE COMMENTS SECTION BELOW AND JOIN THE DEBATE ON TWITTER WITH #SOCIALVOICES...
Welcome to #socialvoices. This is the home of sharp writing, opinion and social debate on MSN. Jump into the comments, tweet us with the hashtag. Join in.

Which of these endangered 1970s and 80s cars would you be saddest to see become extinct?
Thanks for being one of the first people to vote. Results will be available soon. Check for results
Austin Allegro

1,222 votes

Austin Princess

1,949 votes

Hillman Avenger

2,431 votes
Total Responses: 13,116
Not scientifically valid. Results are updated every minute.