Hydrogen fuelled cars won't solve our pollution problems
Car manufacturers are pushing hydrogen concepts in Paris this month but viable cars using the fuel remain a long, long way off.
This year's Paris Motor Show will be crammed with Hydrogen-fuelled concept cars. But while it might be dubbed as the pollution-free wonder fuel, Sean Carson says hydrogen cars just aren't viable yet.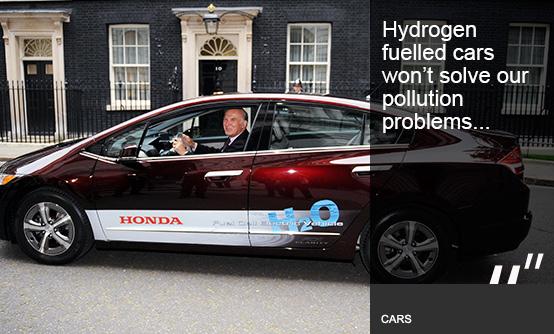 On the face of things, using hydrogen fuel as a means to propel vehicles is a brilliant idea. Hydrogen stored in a car's fuel tank is combined with oxygen from the atmosphere in an on-board fuel cell, producing electricity.
Nissan TeRRA hydrogen-powered SUV concept  
Hydrogen fuel cell taxi  

This can then be harnessed and used to drive an electric motor, whizzing you along with a clean conscience. And it really will be clean – the only by-product of the hydrogen-oxygen chemical reaction is pure water.
Nissan's TeRRA SUV concept – and the glut of glitzy hydrogen-powered prototype machinery set to debut at this month's 2012 Paris Motor Show – uses the technology, and while it might be a brilliant idea in theory, it just doesn't compute in the real world.

For one, where are we going to produce all the hydrogen? To synthesise enough H2 gas sustainably from algae, you'd need to turn vast tracts of the country into ponds and swamps. To mass produce it, you'll need some sort of energy-intensive refinery that negates the zero-emissions effect of using fuel cell cars in the first place.


"Remember the story of the Hindenburg disaster?"
Secondly, if we could produce the quantities of hydrogen the country would need for a mass rollout of gas-fuelled vehicles, where would we store it, how would we distribute it and finally, how would we administer it to our vehicles?
Existing depots and tanks in fuel station forecourts would probably cover the first one, but the second point is more difficult.
Remember the story of the Hindenburg disaster? Yeah, when combined with oxygen and exposed to a spark, hydrogen is highly flammable – even more so than petrol.
It means we'd need special trucks to transport it around the country, and how much is that going to cost the fuel companies?
Which leads us onto the subject of price. To research, develop and build new refinery plants, and then all the associated guff needed to store and distribute it, a litre of hydrogen is going to be pretty damn expensive.
And it has a lower energy density than petrol for the same volume, so we're going to need more of it. Aren't the above points going to continue to belch CO2 into our atmosphere at an alarming rate?


"It's just going to move the problem from the tailpipe to the factory chimney"
You can't get something for nothing and making energy takes energy. It's just going to move the problem from the tailpipe to the factory chimney.
Finally, assuming we can make it and transport it, how are we going to get it into our tanks? It's lighter than air – hence why it was used in the Hindenburg – so we can't use the same petrol and diesel nozzles to refuel. We'd need an airtight seal – likely to be another costly expense to account for in the pump price.
All that is a long way off anyway. The real issue today is that for the money, small-capacity turbocharged petrol and diesel engines – as well as electrically assisted hybrids – are providing the emissions savings we need now at affordable prices.
It might be the ultra-clean saviour of the motor car for the distant future, but in the here and now hydrogen just doesn't add up.

Follow Sean Carson on Twitter @Carson_on_cars

SO WHAT DO YOU THINK? IS HYDROGEN THE FUEL TO POWER CARS OF THE FUTURE? BY WAITING FOR A MIRACLE FUEL DO WE RISK DOING TOO LITTLE TO COMBAT POLLUTION NOW? TELL US IN THE COMMENTS SECTION BELOW AND JOIN THE DEBATE ON TWITTER WITH #SOCIALVOICES...


Nissan TeRRA hydrogen-powered SUV concept
Hydrogen fuel cell taxi


Welcome to #socialvoices. This is the home of sharp writing, opinion and social debate on MSN. Jump into the comments, tweet us with the hashtag. Join in.

Which of these endangered 1970s and 80s cars would you be saddest to see become extinct?
Thanks for being one of the first people to vote. Results will be available soon. Check for results
Austin Allegro

1,223 votes

Austin Princess

1,954 votes

Hillman Avenger

2,434 votes
Total Responses: 13,135
Not scientifically valid. Results are updated every minute.