Alcopal drink-driving drug should be banned
A drug that can 'beat' a breathalyser test shouldn't be on sale, argues CJ Hubbard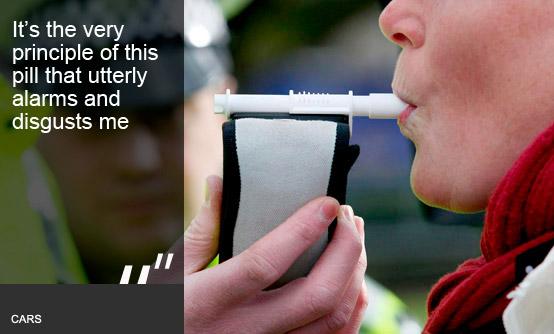 A man in Birmingham has begun selling a pill that can, he says, help drink-driving motorists beat a breathalyser test. This is at once indefensibly stupid but also apparently entirely legal, and as a result I suppose rather enterprising as well.
64-year-old Arthur Kibble is the man responsible for introducing the "Alcopal", which you can order (in amusingly unspecified amounts) via a website I'm not going to name here. The pill has already been banned in the US, but is not currently illegal in the UK; manufactured in India, supposedly it works by preventing alcohol from being absorbed into the bloodstream, and supposedly it is entirely safe.
Getting ripped off buying these would be karma
I don't actually care whether the Alcopal is snake oil – getting ripped off buying these would be karma coming back to bite you. Similarly, I don't even particularly care whether it's harmful. At the risk of sounding like Mary Whitehouse in her prime, it's the very principle that utterly alarms and disgusts me.
Alcohol has a proven degrading effect on the ability of the human being to operate a motor vehicle. Given many of us apparently have enough trouble driving responsibly with this without any form of definitively inhibiting influence, anything that interferes with the police's power to catch and prosecute drink-drivers can only be labelled reprehensible.
The opportunity to drive is not a right, it's a privilege – and it comes with responsibilities that should be taken extremely seriously. First and foremost of these is a duty of care to your fellow road users, and in order to respect this you need to be in complete control of your own vehicle.
Saying "everybody does it" doesn't wash from any moral perspective
Imbibing alcohol is a prime example of violating that duty of care – and while it may not be the only example, it is an easily avoidable one: don't drink and drive.
Kibble's spectacularly immature justification that "everybody does it" (speaking to the Daily Mail) really doesn't wash from any kind of moral perspective. The UK already has one of the most lax legal alcohol limits for driving in Europe – 35 micrograms per 100ml of breath – so it's not as if we're even zero tolerance. Attempting to help drivers get away with drinking more is just awful.
According to official government statistics, drink-driving deaths in the UK actually rose last year by 12% – the first increase in nearly a decade. Injuries both slight and serious also increased, meaning total drink-driving causalities are now just 100 shy of 10,000 a year. Putting this further into perspective, drink was involved in 15% of ALL fatal road accidents in 2011.
The number of alcohol violations has risen again
Alarmingly, this trend is continuing. Even though a recent police crackdown on drink-driving over the summer saw fewer arrests, the number of alcohol violations among those involved in accidents has risen again. These people should be stopped – educated if necessary – but certainly not given an opportunity to avoid the penalties they so thoroughly deserve.
A final word of warning to anyone now thinking the Alcopal sounds like a brilliant idea. It only claims to repress the detection of alcohol in breath; breathalysers are just one way the police are able to prosecute drink-driving offenders. And while it isn't confirmed, I can only imagine that any attempt to create a false reading in these circumstances is unlikely to go down well in court…
Follow CJ Hubbard on Twitter @ir_427

SO WHAT DO YOU THINK? SHOULD THESE PILLS BE MADE ILLEGAL? TELL US IN THE COMMENTS SECTION BELOW AND JOIN THE DEBATE ON TWITTER WITH #SOCIALVOICES...
Welcome to #socialvoices. This is the home of sharp writing, opinion and social debate on MSN. Jump into the comments, tweet us with the hashtag. Join in.

Which of these endangered 1970s and 80s cars would you be saddest to see become extinct?
Thanks for being one of the first people to vote. Results will be available soon. Check for results
Austin Allegro

1,222 votes

Austin Princess

1,943 votes

Hillman Avenger

2,426 votes
Total Responses: 13,062
Not scientifically valid. Results are updated every minute.