Forget the recession, buy your next car now before prices rise again
A new car might be the last thing on your mind in the current economic climate but Ashley Winston predicts prices are set to rise and says now is the time to act.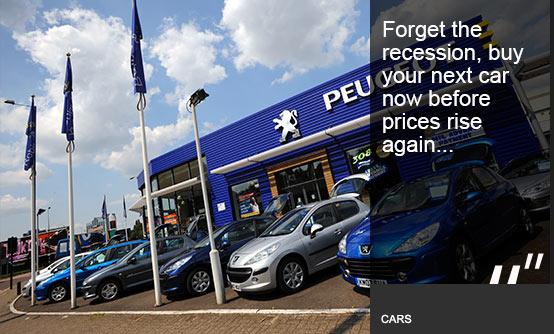 Here's a secret that most people in the motor industry kept under their hats: when the recession hit, the prices of both new and used cars started to rise… and they didn't start to fall again until early this year.
In terms of logic this sounds crazy. In a recession people have less money, so surely they stop buying expensive products like cars? Yes, however, in the case of the automotive industry other quite extreme factors came into play. Here's what happened:

The recession started and many people who typically bought new cars opted for used cars instead.


This caused new-car sales to drop quite rapidly and most of the motor manufacturers had a simple solution – they cut production (quite drastically in some cases).


Cuts in car production were so extreme in some cases that huge great waiting lists built up for certain new cars. In 2010 a Land Rover Discovery was a five-to-six-month wait, certain Audis were over nine months!


Of course, having a waiting list for cars meant that the manufacturers were much less inclined to discount car prices, so effectively people were paying more. Why should manufacturers offer discounts when they had customers fighting to get a good place in the queue?


Buyers who weren't prepared to wait for their cars started looking at nearly new cars instead... often paying as much as or more than the new list price!


Then the increase in value of nearly new cars impacted on the values of one-year-old cars, which went up.


And this affected the value of two-year-old cars, which caused the value of three-year-old cars to go up… I'm sure you get the picture.

On top of all this, all those people who were traditionally new car buyers and who were suddenly looking for used cars, created even further demand on the used car market. And to make matters worse still fewer new car sales meant fewer buyers part-exchanging their old car, something which is the lifeblood of the lower end of the used car market.
The used car dealers were caught in a 'used car drought', which caused a huge bun fight amongst dealers for stock. I know dealers who were used to having 60+ used cars in stock and ended up with just 15-20 on their rather empty-looking forecourt.

"New car discounts will disappear and used car prices will rise"
My old economics teacher, Mr Murray, taught me that if demand is high and supply is short, prices always go up. He was right! What worries me today is that history has a habit of repeating itself.


The news last week that new car sales in Europe are falling through the floor all sounds rather familiar. French new car registrations are down 18% compared to September 2011, Italy's fell over 25%, Spain was a colossal 37% down.
And the natural response from the motor manufacturers? Cut production!

All of a sudden we're back to where we were a couple of years ago and I can't see any reason why the same won't happen again. New car discounts will disappear and used car prices will rise. Last time it took two years for things to get better.
So the best piece of advice I can give to anyone thinking of buying a car in the near future… do it now!


Ashley Winston runs the UK's leading car-sourcing company. He's also the world's biggest car nut (self-proclaimed, of course).

Follow Ashley Winston on Twitter @thecarguru

SO WHAT DO YOU THINK? DO YOU BUY THE THEORY THAT NOW IS A GREAT TIME TO ENTER THE CAR MARKET? WHAT'S YOUR TAKE ON THE SITUATION? TELL US IN THE COMMENTS SECTION BELOW AND JOIN THE DEBATE ON TWITTER WITH #SOCIALVOICES...
Welcome to #socialvoices. This is the home of sharp writing, opinion and social debate on MSN. Jump into the comments, tweet us with the hashtag. Join in.

Which of these endangered 1970s and 80s cars would you be saddest to see become extinct?
Thanks for being one of the first people to vote. Results will be available soon. Check for results
Austin Allegro

1,225 votes

Austin Princess

1,956 votes

Hillman Avenger

2,435 votes
Total Responses: 13,149
Not scientifically valid. Results are updated every minute.