Why I am not excited about the new Aston Martin Vanquish
Aston Martin has unveiled a new Vanquish but in an era of exquisitely engineered 700hp supercars, does it live up to the status of the famous original?
By Eldred Green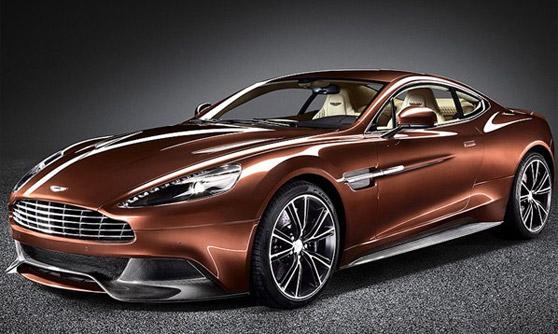 Eleven years ago, Aston Martin launched the Vanquish. Back then, the legendary car maker was owned by Ford and was on a resurgence that started with the flawed but achingly beautiful DB7. 
The shape, penned by Ian Callum, was an evolution of the design language set by the DB7, but the Vanquish was more masculine, with a unique grille and pumped-up fenders giving it a wide, squat stance. It was unmistakably a different model that moved the game on from the DB7. Construction was also cutting edge, employing aluminum sections bonded and riveted around a central carbonfibre transmission tunnel. 
The new Aston Martin V12 Vanquish 2012


The Ferrari 550M/575M were the main rivals to the Vanquish and while these Ferraris were triumphant in handling, they lost out in terms of looks, engine and overall character. The arrival of the Vanquish was Aston Martin demonstrating to the world that they were a world class player when it came to making supercars.


Fast-forward five years after the last Vanquish rolled of the production line and Aston Martin has revealed a successor. But why am I not excited?


You see, in my opinion the new Vanquish is very much a face-lifted and re-engineered DBS, which in turn is a more hardcore DB9. That may not have been a bad thing if the new Vanquish could repeat the feat of its predecessors by challenging the modern day version of its ancestor's rivals. Unfortunately it can't.


Where the S version of the old Vanquish made 520hp from its 6.0-litre V12 and could hit a top speed of over 200mph, the new model has to 'make do' with 565hp and a top speed of, wait for it, 183mph from an upgraded version of the old cars V12 – 200mph is the entry requirements now to the supercar club, Aston Martin. That is 6mph higher than a Porsche 911 Carrera S – a car less than half its price - and approximately 20mph down on its predecessor.


The case is even worse when lined-up against the Ferrari F12. The F12 makes 730hp from a 6.3-litre V12 and tops out at 211mph. Even more embarrassing for the Vanquish is that the F12 has a full second advantage from 0-60mph (3.1 seconds versus 4.1) and you know that the difference will only get wider from there.


Even the recently unveiled Bentley Continental GT Speed is way more powerful at 625hp, manages a 0-60mph time a tenth quicker at 4.0 seconds and still tops 205mph while being £40,000 cheaper and able to carry four passengers in comfort. In fact, all of its front-engine GT rivals (including the Mercedes-Benz SLS AMG GT) are all more powerful with much higher performance figures. It cannot even claim to be a bargain because with the exception of the far more powerful F12, all its rivals are cheaper.


Maybe an argument could be made in favour of the looks. Some will argue that Ian Callum has designed a winning shape and Aston Martin should not mess with it but if we all criticise Porsche for not shaking up the design of the 911, then why should we give Aston Martin a free pass? Is it because they are a British marque?


What do you think of the new Aston Martin Vanquish?
Eldred Green
Twitter: @sixtronicblog
The new Aston Martin V12 Vanquish 2012
The Ferrari F12
The new Bentley GT Speed

They should just call it a DB9 GT instead of the Vanquish.  Aston Martin Designers seem stuck on the DB9 shape and have mange to produce a comolete range of cars that all look the same. The rapide is a stretched db9. the amv8 is a db9 that shrunk in the washing machine. If you put a larger engine you get the AM V12 Vantage. The Virage is a joke and the new vanquish is no match for the ferrari and  Lamborghini flagships.


Looks aside, the problem for Aston is that their engine has reached the maximum it can produce in naturally aspirated form. It is all a question of air flow through the heads. They have made it more powerful in terms of horsepower, but at the expense of torque where as their competitors continually redevelop their engines making them much more powerful. Of course, what Aston actually need is a completely new engine. but the cost of developing a new V12 is
astronomical,especia​lly
when you dont have the money to do it so what is the answer? Forced induction. They are going to have to either supercharge or more likely turbocharge their engine. As if happens, you can actually run 6 lbs of boost with no internal modifications to this engine being required. Whilst this doesn't sound a lot, it will give another 90 hp and more importantly a similar increase in ft lbs in torque and it is the torque figure that transforms the car. With a turbo installation, they can have an additional 100 ft lbs of torque down as low as 2000 revs, increasing to an additional 120 ft lbs by 3500 revs with positive boost coming in at around 1500 rev. The torque is mapped so that  it continues up to the 4000 peak and then the extra boost lets the horse power loose on the top end. I know this works because a company i have a financial interest in has just done exactly this for a customer and the difference in driveability is astounding. If they want to go higher, they will have to change pistons, con rods and crank oiling and bearings, etc, but if they did, they too would be getting to the 700 plus hp of their rivals, so there is still some life left in the old 6 litre V 12, they just have to think differently to improve it.  The issue with the looks is not really a problem because that is their branding and I dont blame them for evolving it because everyone recognises an Aston. Just look at the current crop of Ferrari's they all look different and have lost their instantly visual  identity, whereas Astons still make the statement they are designed to make. But in years past, they were the kings of performance, but not anymore so do the engine first Aston and get ahead of the game again.
I don't get it with the comments on perfomance, Aston Martin's are GT's not super cars they are in a different league, I even remember Clarkson saying the very same, and I don't normally agree with his comments,  look at the inside of an Aston then the inside of a stripped out Ferrari you dont get a radio, carpets, Porsche, Lambo etc, you don't get the finer things like you do with the Aston you get the luxury and refind driving with great looks,  its not about  beating Porsche, Lambo, etc  on a 0-60 never has been, when will people get Aston for what they really are, if its 0-60 your after you go elseware.
Oh and only 186mph against 211mph for the Ferrari, oh please where the hell are you going to be able to even test those speeds they are there for one thing only men with small genitals, hahahaha Ive never seen anyone thrashing about in an Aston as for the others mentioned I rest my case.

Aston have yet again released another car that is virtually identical to the other v12's in its range - bar a few tweaks here and there.  I've just got rid of a V8 Vantage that I bought from new 2 years ago and feel confused by the ownership experience.  All Aston's are lovely to look at - it is a brand that many car enthusiasts aspire to own, but yet the depreciation on them is bordering on criminal.  Mine was / is in immaculate condition, hardly run in, but lost nearly 55% of its value in that period. The performance is - OK -, the handling - rubbish when compared with its rivals (Porsche 911 etc)  and the interior equipment (sat nav, audio interface etc) is frankly amateur.  The residual values indicate that the cars aren't worth their new price tag.  Aston really needs to sharpen up - and start to justify its prices - or reduce them to a realistic level. I'm glad mines gone - I feel i was duped. 

It is absolutely beautiful! but you don't look at the outside of the car when your driving it! and if you are staring at somebody else's rear its the other car that needs to look good! - Mind you in the real world (not a race track) 500 + HP and 150 mph + is just to show off - in reality when is all that extra speed & power necessary? - unless you Jezza Clarkson and co. with a race track to play with! 

i believe the beautiful db9 was the worst thing to happen to Aston martin. Their designers have manage to turn it into a complete range of cars that all look the same.

 I mean take a db9 and add max power body kit and you have the DBS.  Stretch the DB9 and you have the rapide. Put a DB9 in the wash mashine to shrink and u have the AMV8 vantage. if you put a bigger engine you have the V12 vantage. Than you have the joke that is the virage. Aston should just called the vanquish what it really is.....A DB9 GT.


Are you sure you want to delete this comment?
Richard Aucock

So committed to car journalism he is Guild Chairman of the Guild of Motoring Writers. He has been writing about cars since he was 15 and is living the dream.
CJ Hubbard

CJ is thoroughly enjoying fulfilling the ambition he's always had to become a motoring writer. Don't ask him about working in retail, though, or he may start to twitch...
Ian Dickson

Ian is the senior editor on MSN Cars, a job that involves planning, writing and editing content and generally keeping the site ticking over day-to-day.
Which of these endangered 1970s and 80s cars would you be saddest to see become extinct?
Thanks for being one of the first people to vote. Results will be available soon. Check for results
Austin Allegro

1,213 votes

Austin Princess

1,941 votes

Hillman Avenger

2,420 votes
Total Responses: 13,011
Not scientifically valid. Results are updated every minute.