Should Top Gear even return?
With Top Gear taking a break until 2013, we wonder if it's past its sell-by date
By Ginny Weeks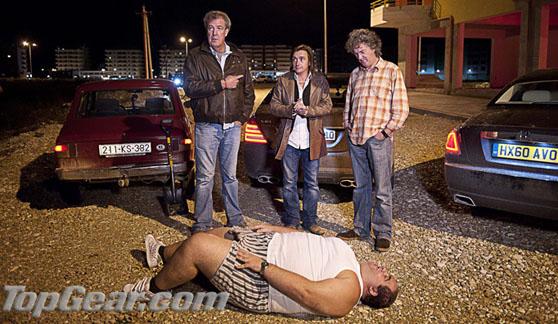 Many fans will be gutted to hear that there will be no more Top Gear this year.


Whilst talking to a South African radio station about Top Gear Live, Jeremy Clarkson said, "It is going to be, it better be absolutely fantastic, it's also about the only time the three of us are working together this year."  Apart from a one-off Christmas special, there will be no new TG episodes until January 2013. 
On his Twitter account, Clarkson explained the break further, pointing the blame at talent shows and their dominance on TV. He also lambasted Simon Cowell and Sunday night schedules that are 'full of fat people singing'.  If we are talking about a ratings war, let's not forget the small matter of the Olympics, which has got to be a contender too.
So, poor old TG is being 'pushed' off the air.  But is this actually the point?  Could it be the case that viewers are losing interest - after all TG has sat unthreatened in its Sunday evening slot for several years now.


While Richard Hammond is busy talking about lions in Kenya, and horse-mad May is delving into furlongs and tweed jackets, it seems like the presenters want to do different things.  Apart from Clarkson, that is, who will no doubt be throwing his car and life related opinions about until his last breath.

Top Gear is a brilliant programme, but it needs a new lease of life.  For the last few years the stunts have got progressively sillier and drifted further away from the original point of the car itself.  Some of them are hilariously funny, but others are just like watching three middle-aged blokes messing about with roadkill and pick-ups.  This set up can only appeal for so long. 


A female presenter would really shake things up a bit.  It would restore the balance and move the programme away from the dominance of Clarkson's opinions.

I would love to see more of the stylish, creative film of the old episodes that made Top Gear so innovative and different.  This has been lost in the world of stunts and record breaking.  


Go on TG, be brave and do something different for 2013…
Clarkson's greatest ever moments
Clarkson: a life in pictures
Clarkson's cars
Are you sure you want to delete this comment?
Richard Aucock

So committed to car journalism he is Guild Chairman of the Guild of Motoring Writers. He has been writing about cars since he was 15 and is living the dream.
CJ Hubbard

CJ is thoroughly enjoying fulfilling the ambition he's always had to become a motoring writer. Don't ask him about working in retail, though, or he may start to twitch...
Ian Dickson

Ian is the senior editor on MSN Cars, a job that involves planning, writing and editing content and generally keeping the site ticking over day-to-day.
Which of these endangered 1970s and 80s cars would you be saddest to see become extinct?
Thanks for being one of the first people to vote. Results will be available soon. Check for results
Austin Allegro

1,228 votes

Austin Princess

1,959 votes

Hillman Avenger

2,438 votes
Total Responses: 13,164
Not scientifically valid. Results are updated every minute.