Ken Block in action
At the making of the latest Gymkana film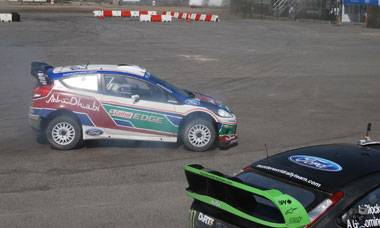 Fresh from my 'rallying' experience in the Countryman yesterday, I jumped on the opportunity to join Ian in watching the professionals showing us how it's done properly. And no, I'm not talking about Bodie and Doyle, but Ford WRC drivers Ken Block and Mikko Hirvonen.
The location was Battersea power station – anyone who has seen Ken Block's famous Gymkana videos (and let's face it, with over 90 million YouTube views, who hasn't) will understand why.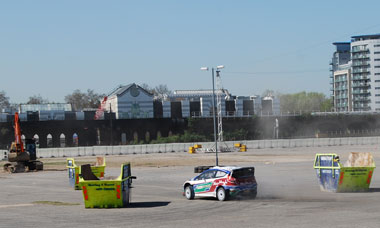 The derelict urban setting for the event was chosen by Codemasters to promote the launch of their Dirt 3 video game, and was turned into Block and Hirvonen's playground for the day.
The obstacles included diggers, skips and truck-trailers – all capable of turning a six-figure-sum rally car into an accordion quicker than Block can say 'dude'.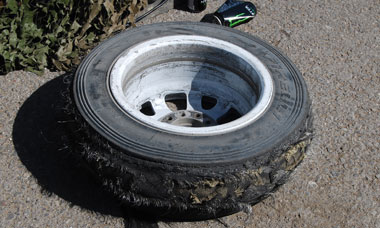 The cars brought along to dance around the obstructions were a Fiesta and a Focus – both WRC versions of course. Both sounded just as furious as expected, with dump valve chatter and backfiring accompanying every gearchange. The Fiesta understeered a lot more than the tail-happy Focus, but the Ford engineers insisted the Fezza was a lot more nimble.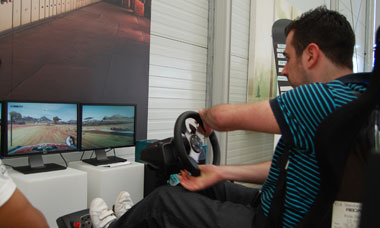 Still, if I'd been one of the lucky ones (i.e. Ian) to have gone for a passenger ride, I know which one I would have chosen. Luckily enough the Battersea location has been recreated in Dirt 3, which means I'll be throwing one of them around myself (albeit digitally of course) when the game is launched in just over 2 weeks.
Along with the Gymkana events in Dirt 3, there are several new modes including night racing and a series of new multiplayer mini-games.
The most interesting of the latter is 'Infection' - which is effectively a hide-and-seek contest between 8 players - and involves one random player hunting down the others with the intention of 'infecting' them. If realism is more to your taste, the usual rallying events are included with over 100 routes on which hone your skills.
While the game will give you an insight into the life of a rally driver, not even driving game experts Codemasters can fully recreate just how fun Block's life must be.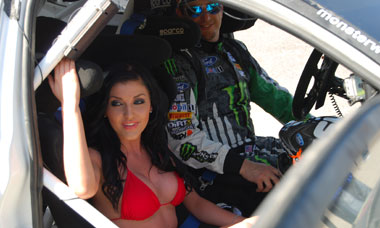 Halfway through the day, one of the lovely ladies from Zoo magazine turned up (wearing nothing more than a bikini obviously) for a passenger drive, much to the delight of Ken and just about every red-blooded male within a few hundred metres.
Word was that later in the day she was going to do the same again topless, but unfortunately duty (and an appointment with some aftersun lotion for my burnt neck) called…
Richard Aucock

So committed to car journalism he is Guild Chairman of the Guild of Motoring Writers. He has been writing about cars since he was 15 and is living the dream.
CJ Hubbard

CJ is thoroughly enjoying fulfilling the ambition he's always had to become a motoring writer. Don't ask him about working in retail, though, or he may start to twitch...
Ian Dickson

Ian is the senior editor on MSN Cars, a job that involves planning, writing and editing content and generally keeping the site ticking over day-to-day.
Which of these endangered 1970s and 80s cars would you be saddest to see become extinct?
Thanks for being one of the first people to vote. Results will be available soon. Check for results
Austin Allegro

1,222 votes

Austin Princess

1,949 votes

Hillman Avenger

2,431 votes
Total Responses: 13,091
Not scientifically valid. Results are updated every minute.