The road to Le Mans with Nissan
Two GT-Rs and exploding black cab already – and CJ hasn't even got to the circuit yet.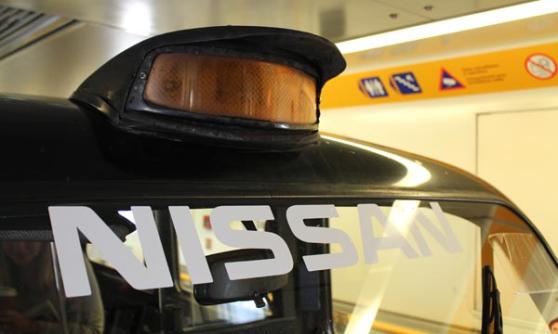 Two 24 hour races in less than a month: following on from my amazing Nürburgring 24 Hour experience in May I'm currently en route to Le Mans, travelling in convey as part of a group organised by Nissan. It has been quite an eventful day…
You might be wondering why Nissan again. Simple, really – not only are a quarter of the field running Nissan engines in this year's race, the company is also campaigning what is indisputably the most radical experimental racing car we've seen so far this century. It's called the DeltaWing, and it looks, basically, like a Batmobile.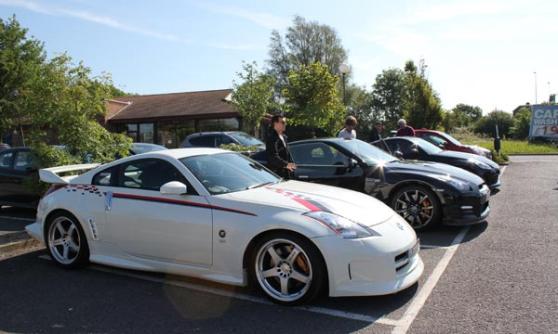 Expect more on the DeltaWing shortly; today has been taken up with driving over from Folkestone. I've never been to Le Mans before, but the atmosphere is legendary – and what's really amazing is that this begins before you've even gotten to France. Driving around the M25 this morning I could already feel the anticipation building. A real sense of collective purpose amongst everything with a GB sticker. You glance at the other drivers and you just know. The above average count of performance cars only adds to the mood.
Arriving at the Premier Inn, it's clear Nissan is about do its bit to further boost this quotient. The invite had enigmatically murmured of an "eclectic" mix of vehicles, but sitting in the car park is an extremely tasty selection of the brand's recent sporting portfolio.
There are two brand new GT-Rs – including the same Track Pack car that escorted me to the 'ring – a 370Z, an R34 Skyline GT-R and two 350Zs. One of which is very much not as standard, and the other I suspect is the supercharged skunkworks special from a few years ago (it is, and it's got a button on the dash that delivers 400hp). But most attention grabbing of all is the previous generation Micra with the bulging wheel arches and the rollcage – yep, it's the 350 SR. You know, the one with the 350Z engine mounted in the boot, driving the rear wheels.
Oh. And for some reason there also appears to be a black cab…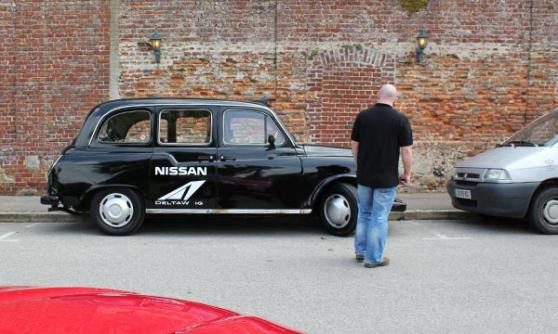 Turns out this is a 15-year old taxi that Nissan UK's PR operation bought just two weeks ago because it's of the era when they were powered by Nissan diesel engines. This one has 365,000 miles on the clock. But the instruments aren't the originals, and the previous owner reckons it's actually done closer to a million. By the time we leave the hotel it's covered in Nissan and DeltaWing stickers; driving through the villages of France it draws more doubletakes than any of the others. An icon of Britain, dislocated.
Perhaps this is only because the Micra refuses to start, though – someone failed to switch it off correctly last night, and complications to do with the alarm and immobiliser have flattened the battery. Sadly it's now staying behind. A shame, but I'm lucky enough to have driven it before, so at the very least I know my ear drums will be pleased. With no interior and not much of a bulkhead between you and the engine it is massively massively LOUD.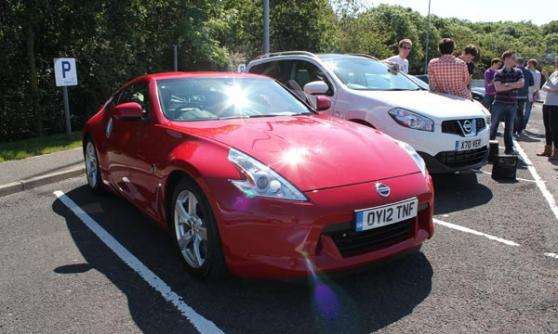 So I start off in the 370Z, accompanied by former BBC Formula 1 correspondent Sarah Holt, who's also never been to Le Mans previously. This particular 370 is a base model that Nissan has brought on fleet in an effort to upset the GT86/BRZ party. It costs more, sure. But it also has a 331hp 3.7-litre V6, making it the perfect antidote to the Toyobaru's lack of poke.
This is the same car I drove back from the Nürburgring – I fell in love with it then and doesn't disappoint today. With slightly smaller wheels than the rest of the range it covers ground with beautiful fluidity, and just feels so wonderfully well judged in all respects. I'd be happy driving this right across the entire continent, let alone the short hop down to la Sarthe.
However, at the first stop Sarah volunteers us for a stint in the cab. Which sounds like a great idea – what other opportunity are we ever going to have to drive a London taxi? – right up until the point where it suddenly chucks a load of black smoke out the back, and the engine dies.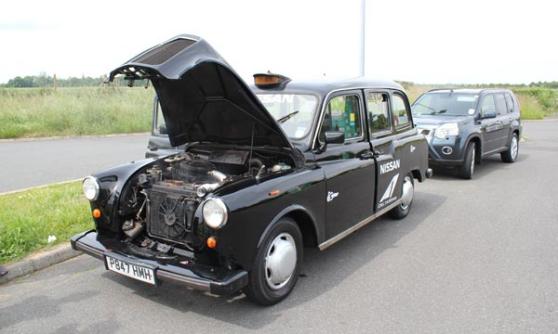 Luckily we have just enough momentum to coast safely to a stop in a service station, and a friendly man named Jim in an X-Trail right behind us. There will be more on Jim tomorrow, but when we lift the lid on the taxi's steaming engine, he confirms the worst has happened – the thing really has properly let go.

I'm mortified, but everyone – including Tom from Nissan later – is very nice about it. The cab had already racked up a huge amount of miles, after all. I feel much better still when it starts again after a few minutes, so while we're forced to abandon it in situ at least we know it isn't completely unsalvageable. A man with a transporter has apparently collected it already, and I'll see it again at the circuit tomorrow.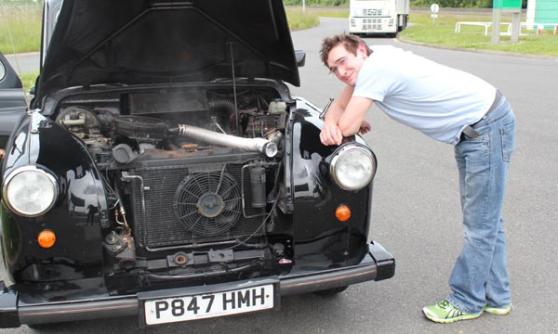 Next up is the standard 2012 GT-R – 550hp of awesome in every sense of the word. By the time we arrive at the next stop my navigator has gone from being alarmed to giggling compulsively whenever the right hand pedal hits the floor and the big Nissan takes off towards the horizon like a low-flying spaceship. Sounds a little like one, too.
A few wrong turns from others in our convoy means we find ourselves with the keys to the other GT-R for the final leg – which means I'm able to compare the Track Pack to the standard car back-to-back. A rare opportunity, and an enlightening one.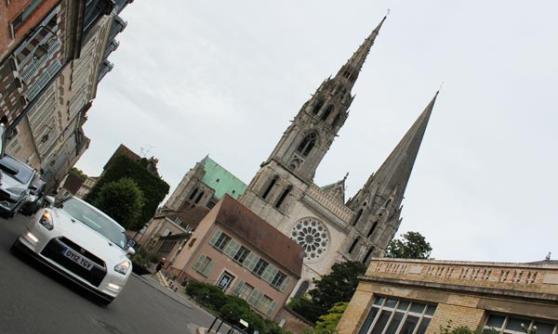 Whether it's the stiffer springs or changes to the suspension geometry, the Track Pack certainly seems pointier. Over bumpier surfaces this also makes it edgier, but arguably that increases the involvement and the challenge, and makes the car feel more alive. It's also a little noisier – maybe the missing rear seats – but it remains impossible to split the two in terms of raw, monstrous performance. And that all-wheel drive chassis only gets extra incredible the longer and harder you drive.
Right now I'm in a hotel room in Chartres, about 80 miles from the circuit, which we'll complete in a short hop in the morning. At which point we'll be joined by a special guest vehicle. The presence of Andy Saunders at dinner should give you a bit of a clue to the surprise.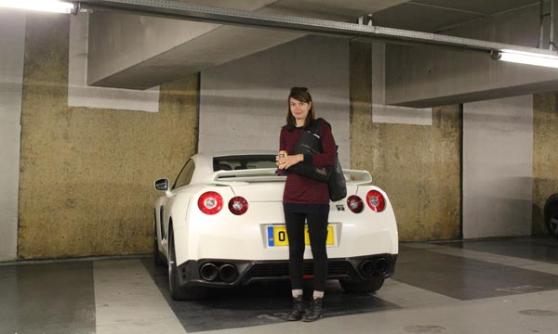 Richard Aucock

So committed to car journalism he is Guild Chairman of the Guild of Motoring Writers. He has been writing about cars since he was 15 and is living the dream.
CJ Hubbard

CJ is thoroughly enjoying fulfilling the ambition he's always had to become a motoring writer. Don't ask him about working in retail, though, or he may start to twitch...
Ian Dickson

Ian is the senior editor on MSN Cars, a job that involves planning, writing and editing content and generally keeping the site ticking over day-to-day.
Which of these endangered 1970s and 80s cars would you be saddest to see become extinct?
Thanks for being one of the first people to vote. Results will be available soon. Check for results
Austin Allegro

1,222 votes

Austin Princess

1,949 votes

Hillman Avenger

2,431 votes
Total Responses: 13,090
Not scientifically valid. Results are updated every minute.