Le Mans 2012: I have arrived
And nothing went bang in the process...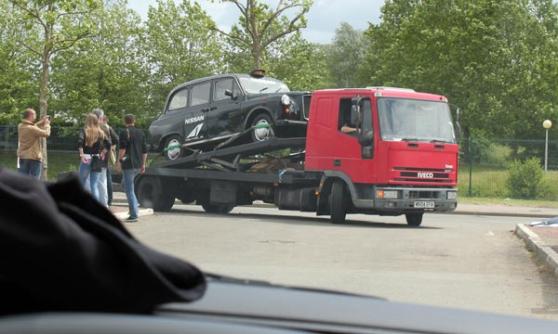 Well, the good news is that I've made it to Le Mans. The really good news is that the Nissan black cab has done as well (albeit on the back of a transporter). And the really great news is that so has the Andy Saunders replica DeltaWing.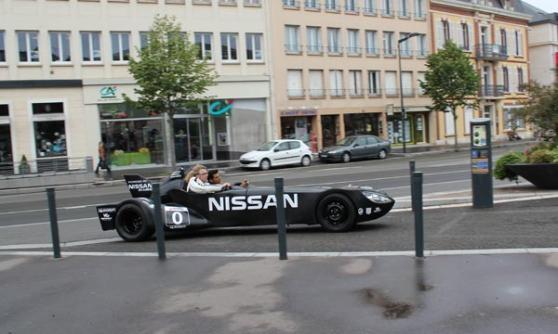 I mentioned yesterday that Andy had joined us in Chartres. For the past five weeks he and technical assistant Jim – he of the X-Trail rescue vehicle – have been furiously building a DeltaWing replica, as part of a joint exercise between Nissan and Top Gear magazine.
Based around a Westfield chassis, the finished item is utterly, utterly brilliant, and caused massive commotion in Chartres town centre when it emerged from the underground car park this (er, yesterday…) morning.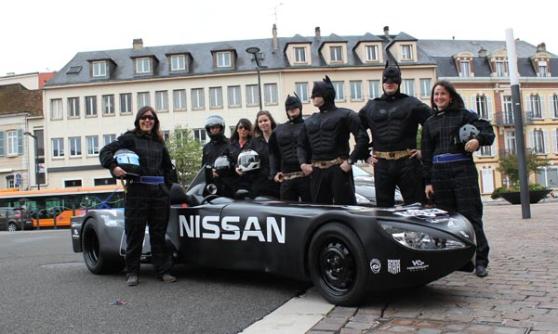 Just to make things even more of a spectacle, by this point a bunch of Nissan staff had also turned up, driving DeltaWing-modified Qashqais and an NV200 van. We're talking stuck on fins and fake exhaust pipes made out of flowerpots here. And no less than three people dressed up as Batman. All the staff involved in this "DeltaTribe" escapade won the chance to be here via an internal competition – it shows: they're loving it and clearly so happy to be involved.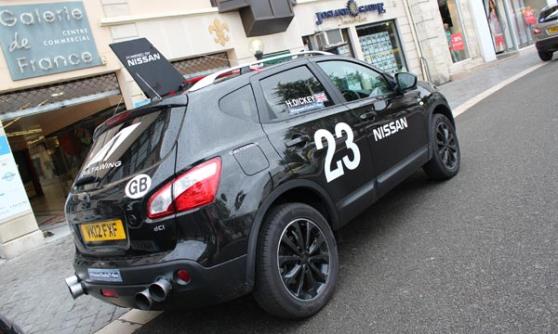 Andy and Jim then proceeded to drive their fake DeltaWing the remaining 80 or so miles to Le Mans in convoy with the duct-tape and enthusiasm DeltaTribe machines. This apparently caused quite a stir. But there were no actual accidents, and the DeltaWing rep was only stopped by the police twice. Following the trend set by the black cab it also overheated at one point as well. Nothing terminal.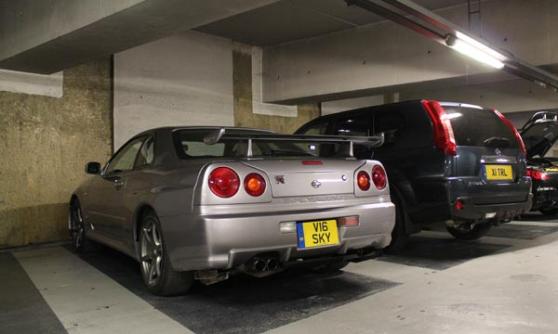 I didn't get to see any of this first hand since I'd kindly been handed the keys to Nissan UK's heritage fleet R34 Skyline GT-R. This is quite possibly the only unmodified example of this car left in the universe, and with less than 30,000 miles under its wheels is simply fabulous to drive. The manual gearshift is wonderfully mechanical, the thin-rimmed steering wheel and leather trimmed bucket seats evocatively retro by modern standards – and it hauls hard if you give it the beans. Lovely stuff.

Amusingly, no one at Nissan seems to have a clue what this button does, however. Answers on a postcode if you have any idea.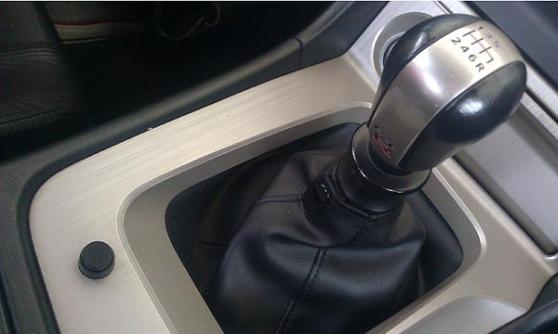 Arriving at Le Mans we all checked into our Hotel Nissan accommodation. This is situated at the Alain Prost karting track, and has been built specially for the event. That is at once less and more impressive than it sounds. Basically a giant marquee divided into cubicles, it none the less has better showers than my bathroom at home. Brilliant, but I'm glad I packed the earplugs. Not least because we're right next to a strip of tarmac that's been unofficially designated as a burnout zone.
As this suggests, the atmosphere here at the circuit is as buoyant and dripping with mischief – literally, if you don't manage to avoid the guys with the waterpistols – as I'd been lead to expect. I'm typing this at 1:15 in the morning, and the entire place is buzzing. Monday is a long, long way away for most people. Better than the Nürburgring 24 Hours? Maybe, maybe not – but I'd say it's more intense. After all, the circuit is almost half the length…
Richard Aucock

So committed to car journalism he is Guild Chairman of the Guild of Motoring Writers. He has been writing about cars since he was 15 and is living the dream.
CJ Hubbard

CJ is thoroughly enjoying fulfilling the ambition he's always had to become a motoring writer. Don't ask him about working in retail, though, or he may start to twitch...
Ian Dickson

Ian is the senior editor on MSN Cars, a job that involves planning, writing and editing content and generally keeping the site ticking over day-to-day.
Which of these endangered 1970s and 80s cars would you be saddest to see become extinct?
Thanks for being one of the first people to vote. Results will be available soon. Check for results
Austin Allegro

1,211 votes

Austin Princess

1,939 votes

Hillman Avenger

2,418 votes
Total Responses: 12,996
Not scientifically valid. Results are updated every minute.