Mercedes AMGs v Goodwood – part one of five
We sample AMG's finest at one of the fastest circuits around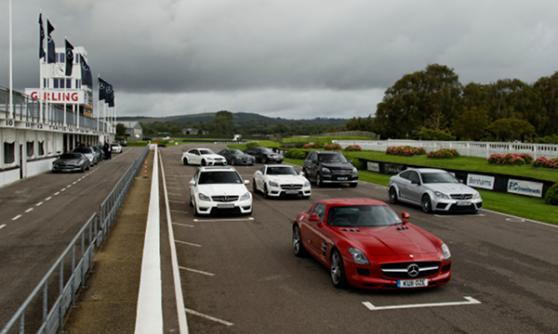 A few weeks back, I was fortunate enough to land a day blatting around one of the UK's quickest circuits in the full range of Mercedes' AMG performance products.

But rather than let you gorge on the full gallery of V8-powered super Mercs straight away, I'm going to be releasing my experiences over the week, with a blog each day on what I got up to. Stay tuned to find out if a combined total of 88 cylinders and 58.5 litres left me a bit mutton jeff…
When you turn up to a racetrack and the smallest, most efficient engine there is a normally aspirated 5.5-litre V8 you know you're going to have a good time. Especially if said engine is a product of AMG – accompanied by its recent 6.2-litre and 5.5-litre twin turbo cousins and sporting the same configuration in a gaggle of Merc's finest.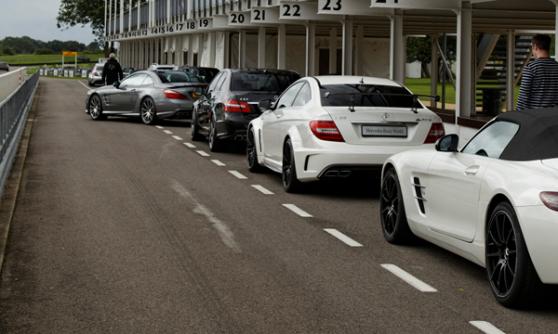 Burbling and rumbling away in the pit lane is a drool-inducing array of AMG-tuned Mercedes.
From the SLK 55 AMG, through the C 63 AMG, E 63 AMG and the techno tour de force that is the latest SL 63 AMG, right the way to the hard core C 63 AMG Black Series and SLS AMG supercar, there's well over a million quid's worth of metal and carbonfibre warming their super-unleaded fuelled hearts in front of me.
First Drive: Mercedes-Benz SL 63 AMG (2012 onwards)
First Drive: Mercedes-Benz SLS AMG Roadster (2011 onwards)
Frozen in time
I'm at Goodwood – the proper former Grand Prix circuit, not the driveway to Lord March's abode – and on first inspection, it actually looks pretty daunting. Racing stopped around here 46 years ago and the track has effectively been frozen in 1966.
Goodwood Festival of Speed 2012
That means a tight little pit lane exit and entry, as well as very little run-off all the way around the track. And that's a particularly important point to note because it's a fast lap.
You don't want to get it wrong around here or you'll be spanking £177,000 of Mercedes-Benz SLS AMG Roadster into an earth bank before you can even mouth the first syllable of "fff…".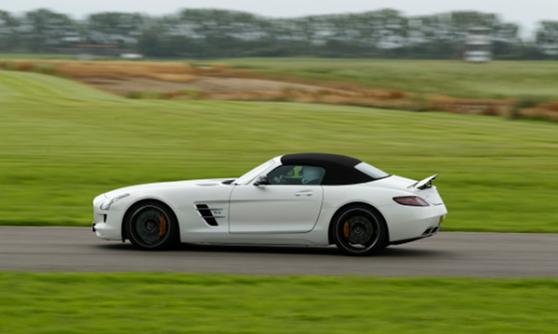 On Bing: see pictures of the Mercedes-Benz SLS AMG Roadster
Which is why I'm listening intently in the safety briefing. As it's my first time at Goodwood I'm out to absorb as much information as possible – even through osmosis of just looking at the track. Well, hopefully.
I'm told to watch for St Mary's, the corner that nearly killed Sir Stirling Moss in 1962, putting him into a coma and partially paralysing him for six months after his career-ending accident. It's the only left-hander on the circuit (apart from the exit of the chicane) so it's easy to get wrong.
Back to the future
Although the pit lane is claustrophobic and quaint, my first foray out onto the track doesn't see my vision instantly turn black and white – behind the wheel it doesn't fee as tight as it looks from the sidelines.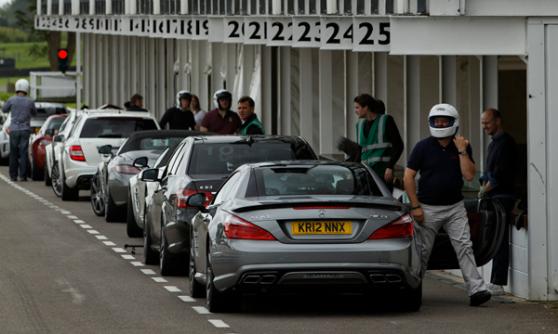 Maybe that's because my first outing is in the SLS Roadster, with its super-low driving position, letter box windscreen and long bonnet protruding out from underneath the A pillars restricting my view to a small blur of green through the windscreen. There's no point trying to look where you've come from either…

With 571hp ready to be unleashed with a twitch of my nervous right ankle, I'm taking it easy. Learning the lines and nailing the braking, turn-in, apex and exit points is the key. Get this right and the speed will come naturally.
I'm being guided by Austin Kinsella, Mercedes-Benz driving academy coach and test driver during the development of the McLaren-Mercedes SLR. "It's all about carrying speed around the lap," he says.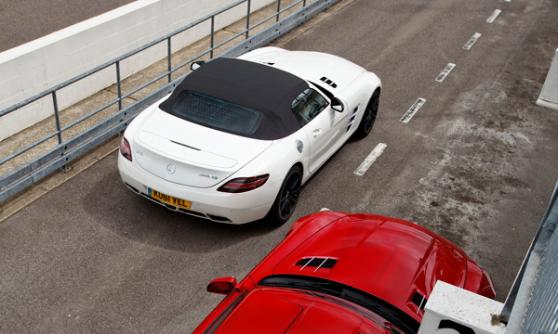 "It's fast and bumpy so you want to upset the car as little as possible – try and do all your braking in a straight line and be smooth with your inputs, that way you can carry as much speed as possible through the corner."

Seems fair to me I think to myself as I hastily exit the final chicane onto the start-finish straight and deploy the 6.2-litre motor's full 571hp hit for the first time…
Check back tomorrow to see how I got after my sighting laps and on my first full-speed session of the day.
Richard Aucock

So committed to car journalism he is Guild Chairman of the Guild of Motoring Writers. He has been writing about cars since he was 15 and is living the dream.
CJ Hubbard

CJ is thoroughly enjoying fulfilling the ambition he's always had to become a motoring writer. Don't ask him about working in retail, though, or he may start to twitch...
Ian Dickson

Ian is the senior editor on MSN Cars, a job that involves planning, writing and editing content and generally keeping the site ticking over day-to-day.
Which of these endangered 1970s and 80s cars would you be saddest to see become extinct?
Thanks for being one of the first people to vote. Results will be available soon. Check for results
Austin Allegro

1,223 votes

Austin Princess

1,954 votes

Hillman Avenger

2,435 votes
Total Responses: 13,137
Not scientifically valid. Results are updated every minute.