Suzuki Swift: surprise and delight
It's a well-rounded vehicle with plenty of potential, the Swift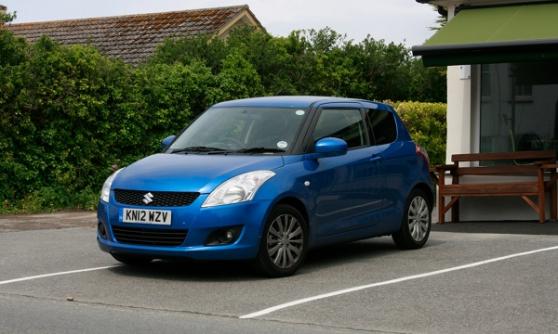 The smart move following a week's worth of cracking-the-flags sunshine would have been to stay at home at the weekend, get a disposable barbeque and enjoy the accompanying metallic taste of lager from a recyclable tin.

Instead, I decided to brave it out on the schlep down to Cornwall last Friday evening with a weekend weather forecast that would put a Mediterranean country to shame. Bad move.
Good job I was in my new Suzuki Swift long termer, then.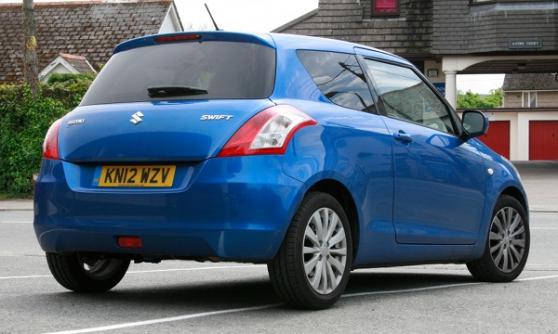 To many, small hatchbacks – especially the ones that are perceived to be "non-premium" – are a hateful breed of vehicle. But honestly, if you subscribe to that opinion, you don't know what you're missing.
The moment I hit the M25 on Friday evening, it was standstill. Great I thought. It'll be ages until I reach my destination and I'll be cooped up in this electric blue sauna for the next 250 miles. Not so.
The Suzuki boasts an air conditioning system that can cool its cabin to comfortably chilled levels in minutes – round one to the Swift.
Once you're not perspiring like Sebastian Vettel after a full-on Grand Prix – and the traffic frees up – the Swift's Bluetooth, cruise control and iPod connection all come into their own, too.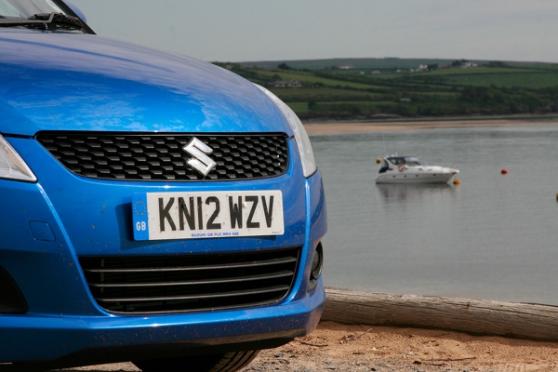 Boxing metaphors aside, it really is quite a competent little supermini. Refinement is good – the most you hear is a rush from the oversized wing mirrors – and fuel economy is decent too; according to the car's trip computer we were getting 47.3mpg average.
Once the congestion subsided I could try and make up a bit of time on the trip cross-county to Kernau. At, er, elevated speeds, the Swift is still respectably frugal and comfortable.
Once in the country's southerly most county, the Swift was right at home with the laid-back surf-type lifestyle. Cruising around the affluent locales of Rock and Padstow, the car feels at home – not showy but smart. It's deep blue hue sparkles in the sunlight and contrasts with its tinted rear windows. I think it looks pretty cool.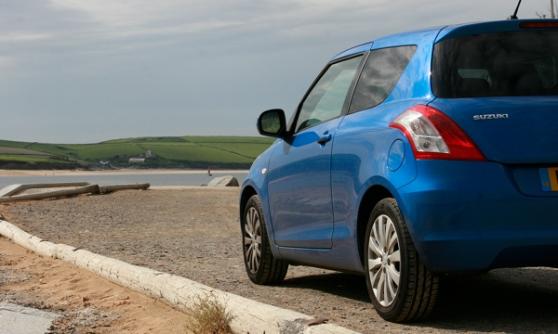 Cutting down some twisty single-track roads to a few secluded beaches, the Swift also feels pretty good – lithe and light, just how you want a supemini to be when you're on a dash.
So, my first impressions of the car are certainly positive. It has that big-car feel that so many punters love – a wheel right in each corner helps the feeling that the car's mass is contained within the axles – but by the same token it's chuckable when the mood takes you – again because of those short overhangs and wheelbase.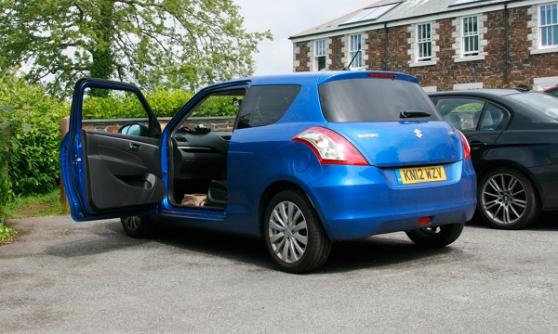 Our proper first acquaintance with the Suzuki will be on the site soon, so look out for a more in-depth review following the arrival of the car on MSN Cars' long-term fleet. The more I drive it, the more I like it.
Are you sure you want to delete this comment?
Richard Aucock

So committed to car journalism he is Guild Chairman of the Guild of Motoring Writers. He has been writing about cars since he was 15 and is living the dream.
CJ Hubbard

CJ is thoroughly enjoying fulfilling the ambition he's always had to become a motoring writer. Don't ask him about working in retail, though, or he may start to twitch...
Ian Dickson

Ian is the senior editor on MSN Cars, a job that involves planning, writing and editing content and generally keeping the site ticking over day-to-day.
Which of these endangered 1970s and 80s cars would you be saddest to see become extinct?
Thanks for being one of the first people to vote. Results will be available soon. Check for results
Austin Allegro

1,213 votes

Austin Princess

1,941 votes

Hillman Avenger

2,421 votes
Total Responses: 13,014
Not scientifically valid. Results are updated every minute.