Blinded by the lights
Daytime running lights a risk for cyclists and pedestrians - as we find out the hard way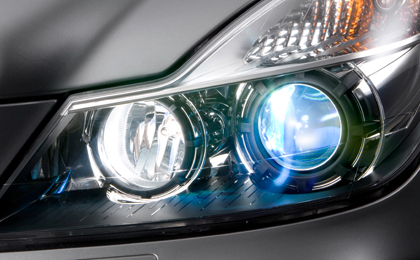 A press release from the
Driving Instructors Association
that arrived in my inbox earlier today struck a bit of a chord. Highlighting the DIA's support for the
Lightmare campaign
- a group campaigning against overly bright xenon and daytime running lights (DLRs) - two events this week had me reading both the press release and the website with interest.
The DIA and Lightmare's argument is that by forcing cars to use DLRs (EU law says all new cars must have them by next month) cyclists, pedestrians and motorbikes are made less obvious and put at greater risk.
While some of Lightmare's rhetoric is a tad exciteable, two experiences this week suggest they might have a point. The first was as a driver, waiting at a give way at a busy intersection just near the office. I made to pull away but something made me look again at the single pin prick of light amid the traffic - yup, a cyclist. Even though he had a very powerful light he was still hard to spot among the clutter of car and street lights around.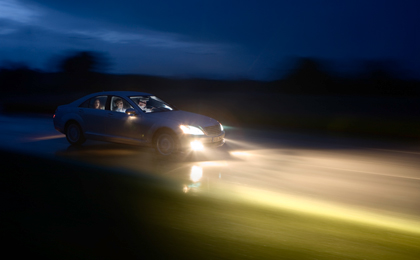 The tables were turned just a couple of days later. I was the cyclist this time, a minibus pulling out from a give way directly into my path. I saw it coming and was able to avoid a collision, making glancing contact with the driver's door. The window came down and I got the classic "sorry mate, I didn't see you" (see
the CTC's 'Stop SMIDSY' campaign
for more) after which a full and frank discussion about the merits of stopping and looking at give way lines was had. I say discussion. It was a bit more one-sided than that.
Anyway, dangerous or not I find the ostenatious DLRs many cars now come with simply a bit pretentious and whenever I get a press car with them fitted delve into the set-up menus and try and find a way of switching them off. Go on, do the same. Nobody wants a living
LIGHTMARE!
Dan
---
Links:
Lightmare website
Driving Instructors Association
Stop SMIDSY
The DIA press release in full:
Driving Instructors Association supports Lightmare campaign
The Driving Instructors Association (DIA) is putting its weight behind the Lightmare campaign, which has been organised to fight the growing road safety issue of blinding lights affecting a driver's ability to perceive hazards. The campaign's website has just been launched at www.lightmare.org. The amalgamation of two separate organisations - Blinded Bi-Xenon and Drivers Against Daylight Running Lights (DaDRL) - Lightmare is the culmination of many years of work from both organisations on the effects of bright lights on road safety. Ken Perham, a night-time London taxi driver for the last 40 years, has been campaigning about the intensity of the modern 'high intensity discharge' (HID) headlight system. The technology involves the headlights to 'float' and respond to the undulations in the road surface. As this system cannot be checked sufficiently during an MOT test, vehicles fitted with it can dazzle oncoming road users, in contravention of the Construction and Use Regulations 1986 and the Road Vehicle Lighting Regulations 1989. Perham said: "These lights are up to three times brighter than a standard halogen headlight and the HID system causes severe distraction to a driver approaching them, to the point that the intensity of these lights hides less conspicuous objects, such as motorcyclists, cyclists and pedestrians, putting these vulnerable groups in danger. This situation must be considered as an urgent matter to be redressed by the government." Perham has teamed up with Roy Milnes, who has been at the helm of DaDRL for the last 12 years. He has been involved in a worldwide campaign involving other organisations and ophthalmologists to look at a more common-sense way of vehicle lighting for daytime use. New laws that come into effect in the UK from Feb 2011 mean that daytime running lights - which are 50% brighter than standard dipped headlights - will be mandatory for all new European-built vehicles. Motorcycle and bicycle action groups are concerned that the proliferation of lit traffic streams will make less visible cyclists and motorcyclists more vulnerable within those streams. Milnes said: "Car drivers are already overprotected in their vehicles, thanks to safety cages and in-vehicle technology. Cyclists, motorcyclists and pedestrians don't have this luxury." Milnes has worked extensively with Dr Peter Heilig, professor of ophthalmology at the University of Vienna, who was instrumental in getting the EU legislation on daylight running lights withdrawn in 2006, after the Austrian national road safety statistics showed a 12% increase in road casualties upon introduction of mandatory daytime running lights. Howard Redwood, head of road safety at the DIA, said: "Lightmare has collected a staggering amount of data and produced a very strong case to persuade the UK government to reconsider the current MOT system and the need for daytime running lights. The DIA are more than happy to get behind this campaign." More information and a petition calling on the government to eliminate daytime and night-time blinding vehicle lamps can be found on the Lightmare website at www.lightmare.org.
Are you sure you want to delete this comment?
Richard Aucock

So committed to car journalism he is Guild Chairman of the Guild of Motoring Writers. He has been writing about cars since he was 15 and is living the dream.
CJ Hubbard

CJ is thoroughly enjoying fulfilling the ambition he's always had to become a motoring writer. Don't ask him about working in retail, though, or he may start to twitch...
Ian Dickson

Ian is the senior editor on MSN Cars, a job that involves planning, writing and editing content and generally keeping the site ticking over day-to-day.
Which of these endangered 1970s and 80s cars would you be saddest to see become extinct?
Thanks for being one of the first people to vote. Results will be available soon. Check for results
Austin Allegro

1,222 votes

Austin Princess

1,944 votes

Hillman Avenger

2,427 votes
Total Responses: 13,064
Not scientifically valid. Results are updated every minute.