2012 Audi RS4: the moment of truth [video]
There hasn't been a better fast Audi than the last RS4 – can the new one possibly compete?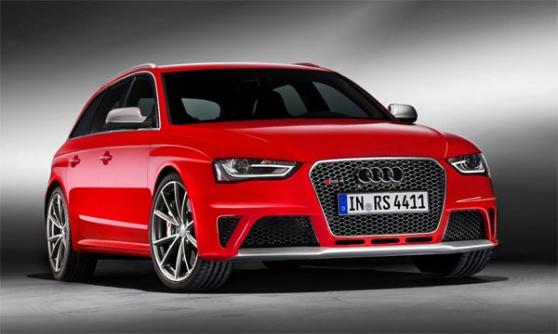 Ian and I are off to drive
the brand new 2012 Audi RS4
this morning – a 450hp V8 wonder wagon that promises 0-62mph in 4.7 seconds and all the chassis tricks a latest generation quattro four-wheel drive system can provide.
Certainly, it will be fast. But will it be any good?
The previous RS4, which went out of production what seems like a lifetime ago, was the one RS Audi that could actually compete with its major rivals not just in terms of outright speed but also in way it made you feel. It had a wonderful, crackling exhaust sound, a sweet-shifting gearbox, hugely involving responses, fluid chassis and crisp steering. It allowed the driver to really get stuck into the process of driving it quickly in way that more recent RS models simply haven't – and I personally would choose a decent used one of these over the outgoing BMW M3 and very probably the Mercedes C63 AMG. It's sublime.
The worry for the new car is that it shares a considerable amount of its underlying oily and electronic bits with the RS5 – a car that has met criticism right across the board for its hideously lumpen ride quality, numb steering and general lack of interest in the emotional experience of high performance. It simply goes fast. Unless the road surface in rubbish – in which case it becomes a serious liability. Which is sad.
So which will the new RS4 be like? The awesome older car, or the colder, calculating RS5? In just a few hours we'll be finding out.
In the meantime, and just for the giggles, I've dug up the video we shot back in 2007 (time does fly...) of the previous RS4 taking on the BMW M3. I don't feel like I've changed that much – but how about the car?
Richard Aucock

So committed to car journalism he is Guild Chairman of the Guild of Motoring Writers. He has been writing about cars since he was 15 and is living the dream.
CJ Hubbard

CJ is thoroughly enjoying fulfilling the ambition he's always had to become a motoring writer. Don't ask him about working in retail, though, or he may start to twitch...
Ian Dickson

Ian is the senior editor on MSN Cars, a job that involves planning, writing and editing content and generally keeping the site ticking over day-to-day.
Which of these endangered 1970s and 80s cars would you be saddest to see become extinct?
Thanks for being one of the first people to vote. Results will be available soon. Check for results
Austin Allegro

1,222 votes

Austin Princess

1,949 votes

Hillman Avenger

2,431 votes
Total Responses: 13,116
Not scientifically valid. Results are updated every minute.