Test Car Shuffle: Suzuki Swift to a Ford Transit van
Not the most logical progression we'll grant you, but this transition proves why we love motorised vehicles
The Test Car Shuffle is back after a bit of an absence. Since our last shuffle from a big Audi to, er, a slightly less big Audi, we've seen a few cars come and go.
The arrival of our newest long termer, the Suzuki Swift, has caused much hand raising and comments of "I'd like a go in that" in the office – it's an exciting little car which we'll be bringing you more on over the coming months.
But the vehicle that was muscling it out of its parking space this week was a brutish Ford Transit, adorned with some garish day-glow graphics that wouldn't look out of place on a racecar.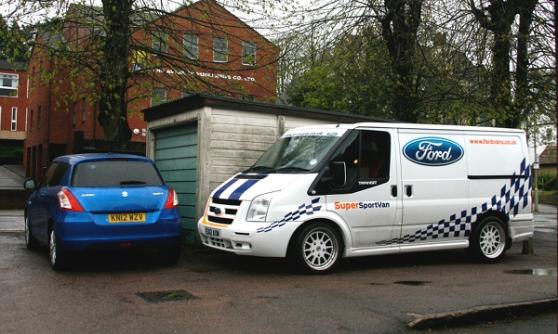 The Suzuki is neat and tidy. It looks squat and chunky and inside it's pretty good – refinement on the move is excellent and build quality feels solid, with no nasty rattles to be heard anywhere.

Suzuki has tried to ape the premium end of the market, and that's no bad thing – some of the cabin's materials don't quite match up to Audi A1 standards, but then again, our new top-spec Swift is £905 less than the cheapest A1. Go figure.
It's a conventional car though – and that's not a slight on the Suzuki's character – highlighted by moving from the little hatch to the eccentric Transit.
Doing so is like wearing a new pair of shoes for the first time. That comforting familiarity is replaced by an awkward feeling that takes some time to get used to. And the fact that this is no ordinary Transit exacerbates the sensation.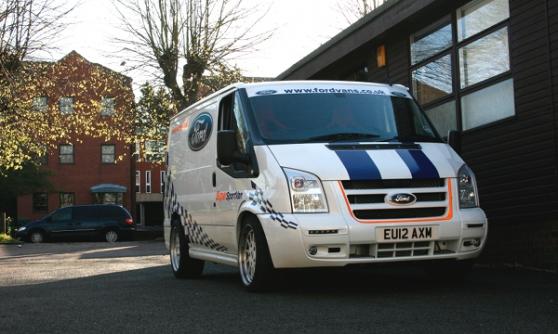 It's called the SuperSportVan and uses a 3.2-litre turbocharged five-cylinder diesel, pumping out 200hp and 347lb ft of torque – enough to make progress very swift indeed.
Sporting a lowered and stiffened chassis, and riding on 19-inch alloy wheels, it feels recalcitrant at first, but it's easy to learn how the lunatic load-lugger wants to be driven.
Keep it in as low a gear as possible, use the torque and use a bit of force to direct it where you want it to go and the Tranny shows its prodigious pace. The hydraulically assisted steering's weight is heavy and feels solid, not light and over aided like the Swift's electric setup – the contention of electrically assisted steering setups lives on…
The important point here is that both have a character of their own. We're not going to give away too much about the Swift just yet – you'll have to read our report on its arrival for that – and we're going to tell what the amazing singular SuperSportVan is like, so watch out for that.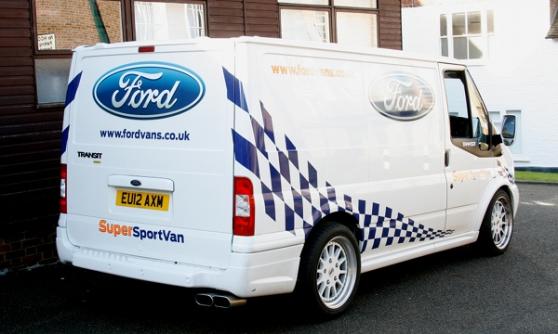 The fact that there are vehicles out there that do a similar job – moving people and/or stuff to an intended destination – but with such a different approach, yielding such different characters in the process is great.
The Transit might not be going into production anytime soon, but the fact Ford built it is so refreshing.
Among the recent abysmal weather, the automotive industry shone a chink of light that proves to me what a diverse and interesting marketplace we're in at the moment. A men to that.
Are you sure you want to delete this comment?
Richard Aucock

So committed to car journalism he is Guild Chairman of the Guild of Motoring Writers. He has been writing about cars since he was 15 and is living the dream.
CJ Hubbard

CJ is thoroughly enjoying fulfilling the ambition he's always had to become a motoring writer. Don't ask him about working in retail, though, or he may start to twitch...
Ian Dickson

Ian is the senior editor on MSN Cars, a job that involves planning, writing and editing content and generally keeping the site ticking over day-to-day.
Which of these endangered 1970s and 80s cars would you be saddest to see become extinct?
Thanks for being one of the first people to vote. Results will be available soon. Check for results
Austin Allegro

1,222 votes

Austin Princess

1,951 votes

Hillman Avenger

2,431 votes
Total Responses: 13,119
Not scientifically valid. Results are updated every minute.