Mercedes AMGs v Goodwood – part three of five
Sean samples a brace of two-seat folding hard-top AMG roadsters – both with 5.5-litre V8 engines – but draws some contrasting conclusions…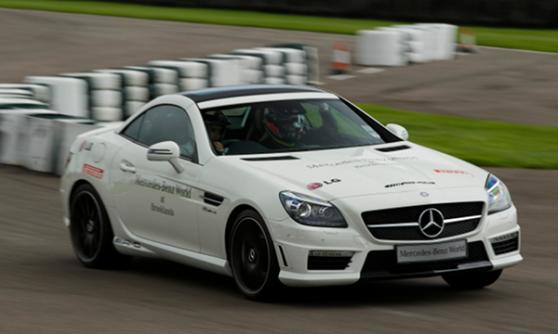 Underwhelmed to overwhelmed in 2.4 miles

Following my run in the Black, I jumped in the most efficient car on offer for a bit of eco-conscious hooning. You see, the SLK 55 will return a claimed 33.6mpg combined thanks to its clever cylinder deactivation technology that drops the motor onto four when cruising and off the throttle.
Mercedes AMGs v Goodwood – part one of five

Mercedes AMGs v Goodwood – part two of five

First Drive: Mercedes-Benz SLK 55 AMG (2012 onwards)
With 422hp on tap its inevitably fast, but for me at least, its mix of massively impressive efficiency (for a 5.5-litre V8), grumbling motor and all-round every day ability come rain or shine, road or track, just didn't do it.
It probably didn't help that the particular example I drove had a serious wheel wobble, but I didn't feel connected to the 55.
Having put in close to a 10-lap stint in the 63 Black, pretty much anything would feel tame by comparison – it wasn't that the two-seat folding drop-top felt slow though, just that it didn't communicate in a way I thought it was going to.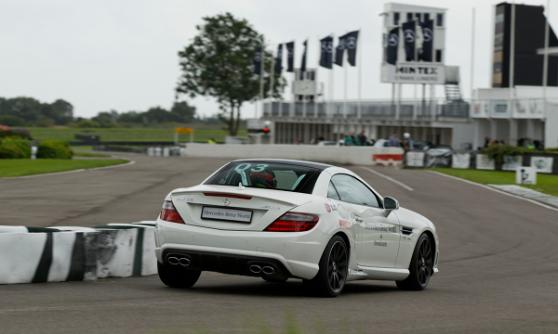 So maybe that's a failing on my part. As a Team GB supporter, I should know that building up your hopes to the point where metaphorical gold medals are guaranteed is a bad idea, but I genuinely dropped my derrière into the SLK's seat with no preconceptions whatsoever. Which is why I was a touch disappointed.
Steering committee
It felt as though my inputs were being vetted by a steering committee (literally in some cases) only for movements at the wheel and pedals to be reigned in, with little feedback as to what the car was doing. It's refined though, and handles with some delicacy, but a Porsche Boxster – probably the S – would be my choice I reckon.
Road Test: Porsche Boxster (2012 onwards)
Usually it's smaller sportscars I go for, so by my own rule I should have preferred the 55 to the larger SL 63. But I didn't. From an in-lap of the 2.4-mile Goodwood track in the SLK to a quick out-lap in the SL, the car revealed its awesome easy-to-drive character immediately.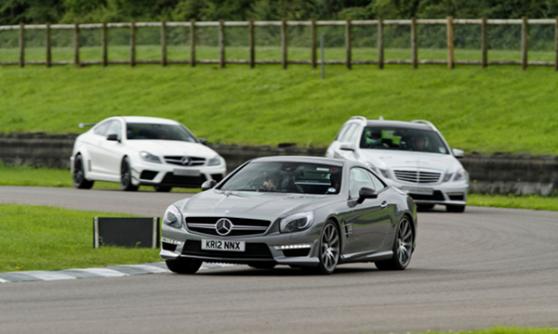 It goads you into going faster, the SL. Its talents feel so deep that even for a 1,845kg GT car it's easy to chuck around. Don't look down at the dash when doing so however, otherwise the myth that it's your skill at the helm, hustling the SL round at what will inevitably be a fair lick, will be destroyed.
Systems stop play – but in a good or bad way?
There are two ways to look at it: the first is that it's another case of safety systems stopping play, reigning in your inputs, the second is that it's another case of safety systems prolonging play, as I'd undoubtedly be door handles deep in grass without them.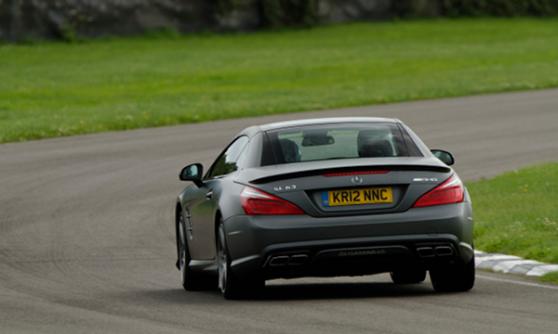 We know the standard SL is a pretty comprehensive GT, but the AMG version adds to that a serious gob-full more grip, an entertaining chassis and much sweeter steering than the normal car. Its versatility almost knows no bounds and it seriously impressed on track.
On the road, it'd be mighty. And the noise, that noise. Adding a brace of turbochargers to the 5.5-litre V8 has muted the baritone bark from the exhaust slightly, but the character and quality of the 537hp motor's racket isn't abated.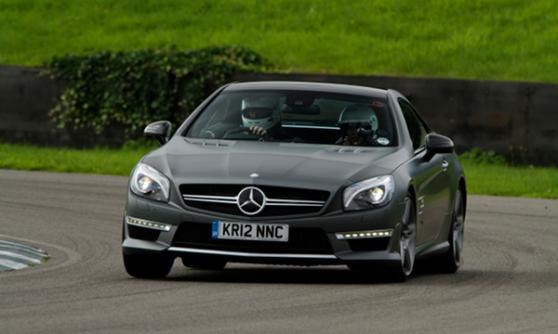 It was the SLK I thought I'd be more likely to come away raving about and the SL that'd leave me cold and nonplussed. It was quite the opposite.
After time behind the wheel of AMG's ultimate – the SLS – the mad as a hatter C 63 Black Series, and the brace of Affalterbach's finest folding hard top two seaters, it's time to go in search of the company's bread and butter: a big V8-engined über-barge adorned with the letter E.
Richard Aucock

So committed to car journalism he is Guild Chairman of the Guild of Motoring Writers. He has been writing about cars since he was 15 and is living the dream.
CJ Hubbard

CJ is thoroughly enjoying fulfilling the ambition he's always had to become a motoring writer. Don't ask him about working in retail, though, or he may start to twitch...
Ian Dickson

Ian is the senior editor on MSN Cars, a job that involves planning, writing and editing content and generally keeping the site ticking over day-to-day.
Which of these endangered 1970s and 80s cars would you be saddest to see become extinct?
Thanks for being one of the first people to vote. Results will be available soon. Check for results
Austin Allegro

1,223 votes

Austin Princess

1,954 votes

Hillman Avenger

2,435 votes
Total Responses: 13,136
Not scientifically valid. Results are updated every minute.