Losing the rentacar lottery - UPDATED
My complaint gets a response from Hertz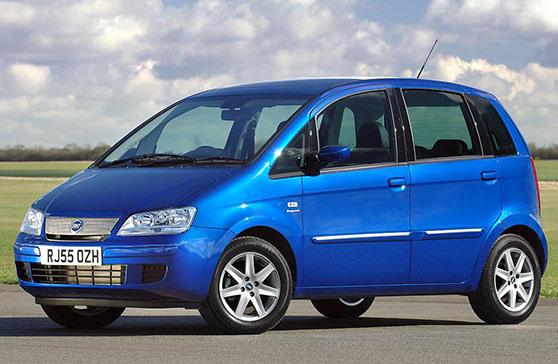 A Fiat Idea - not a Ford Focus
Losing the rentacar lottery, big time
Ah yes, the rentacar lottery.  You know the game: where you rent a car in one category, and too often end up with the very worst from that category.
So last week my family and I flew down to Pisa in Italy to stay with some friends down there.  They live quite some distance from the airport, and I would be arriving late at night so wanted a reasonably sized car that I knew would cruise at speed and in comfort for me and my two children - my wife had to stay at home due to work commitments sadly.
So back in April I went off to the Hertz website.  I like using famous companies  like Hertz because frankly they have a reputation and brand built over many decades which I assume they care about – and thus have an incentive to treat their customers with care and deliver on promises. 
Unlike Il Cheapo Locale rentacar, who don't really have to worry about their brands very much – so I am happy to pay over the odds for a large company like Hertz.
Playing the game
So back in April – four months ago – I booked myself a Hertz Group D car, which is a Ford Focus or similar car, 4-5 door, manual with air conditioning.  Virtually any modern car from this category would be fine for my purpose: long distance cruising at relatively high speed.
Even though I drive many different cars a year, like many I still fantasise about winning the rentacar lottery: either getting the best car in a particular group, or – hurrah – a better one.  Once a few years back I rented a Fiesta-class car and ended up with a Mercedes B-Class.  Result. 
So on the way over I dreamed the dream: maybe a VW Golf with a lovely 140hp common-rail diesel, factory fresh from Wolfsburg, with happy 130 km/h cruising written all over it? Or perhaps a proper 'civilian' run in the new Ford Focus, which I enjoyed so much driving with Peter Burgess at the launch last year?
Or maybe even a wild card, like the new Alfa Romeo Giulietta, which I have heard very good things about but have not got around to driving yet? And of the other possibilities, I wouldn't really have minded a Opel Astra, Fiat Bravo, or a Peugeot 308, or a Renault Megane.  Which is just about the C segment (D-segment in Hertz speak) all-in.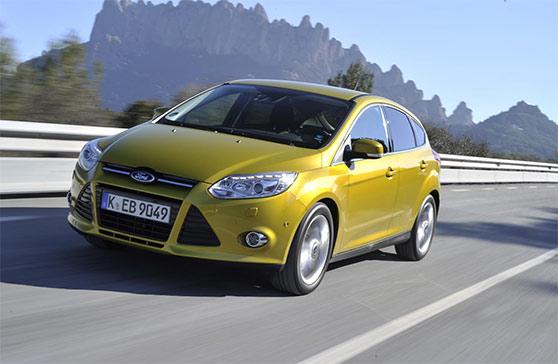 A Ford Focus: rentacar dreams are made of this...
Losing the game
But like the real life lottery, disappointment is a more likely outcome, as I was to discover.  I didn't get any of the cars above.  No, I was given a Fiat Idea (pictured above – it's a library shot: my photo of the real thing got lost when my phone died). I couldn't even remember what a Fiat Idea was; I thought it was perhaps some Italian-market only derivative of the Bravo.  I did emit a pained expression and enquired if they had a Golf or Focus in, but no result. 
They did offer me a Focus Estate – a better and bigger car – but Hertz wanted 5 Euros a day more for that, and having spent enough on my holiday, I declined.
So I accepted the Fiat Idea.   My excuse for this is that I was slightly shell shocked from flying across Europe with two young children, and it was now 10pm at night.  And I had a long journey ahead of me, and was anxious to get going. 
As I was driving it away I realised I had made a big mistake.  The Idea was totally ghastly in every way; it rattled and bumped around on Italy's (admittedly appalling) road surfaces.  Its 1.3-litre diesel engine sounded more at home in an old, unrefined lawnmower.
The ride was so awful that the cable for my sat-nav jumped out of the 12V socket at every expansion-joint, leaving me to fiddle it back in lest we get plunged into cluelessness-ville in the middle of nowhere, in the middle of the night.
The car leaned over like an aircraft carrier at every wide corner the autostrada had to offer.  The front passenger electric window didn't even work.   In short, the Fiat Idea is a horrible little shopping car, a glorified – and not very glorified - supermini - rather than the family hatchback I wanted.
At least it didn't break down, but I was amazed at how I had been treated by a large famous company.  I paid for a family hatchback, and was palmed off with any old rubbish they had lying around, despite having been given four months notice to get me the car I had asked and paid for.
Ts and Cs
When I woke up the next morning at my friend's house, it dawned on me that I had been done.  I looked up Hertz's website.  It states that the car given "will be from the same car group, meaning that it will be comparable in size and performance to that vehicle." Too right.
"If we are unable to provide a vehicle in your requested car group, we will provide a vehicle from the next available car group up at no extra charge." Too right again.
The reason I had forgotten about the Fiat Idea is that it was only sold in the UK for three years, from 2004 to 2007, and was presumably pulled due to low sales; I'm not surprised  - it is ghastly.  The Idea is based not on the Bravo, but on the Punto, a supermini-class car that is a rival for the Fiesta, not the Focus, the car type I had paid for.
For one thing, the Idea is markedly smaller than any Group D car.  It is 3.9m in length, while a Focus these days is 4.3m.  It is in fact smaller than the current Punto, which is 4.1m long; it is based on the Punto from 1999.  Interestingly the Fiesta these days is 3.95m long – longer than the Idea I had been fobbed off with.
In short, the Fiat Idea is very far from being "comparable in size and performance to that vehicle [a Ford Focus]" and is very far from being in "next available car group up."
The Fiat Idea is in Hertz Group U, which is for mini-MPVs.  I can't tell you what it would have cost to rent from Hertz when I got it as I can't go back in time, but if I wanted one tomorrow it seems like it would have cost the same as a Group D car – bizarre but true, given that a Fiat Idea must be a far cheaper car to buy than a Focus class car. 
As it's no longer on sale in the UK, I had to do some digging around on this front.  But basically, a 57-plate 1.3 diesel Fiat Idea RRP in 2007 was £11,145, while the cheapest five-door Focus diesel at the time, a 1.6 TDCi, was £13,795 – 24% more.  Even the cheapest Focus – a petrol 5-door – was £12,295 – a 10% difference. (Data from parkers.co.uk)
Why anyone would want  a car like an Idea when they could have a Focus class car for the same money is beyond me.  Perhaps they never do – which is why people like me get lumbered with them when the cars that people like me actually want – and paid for - have been booked out.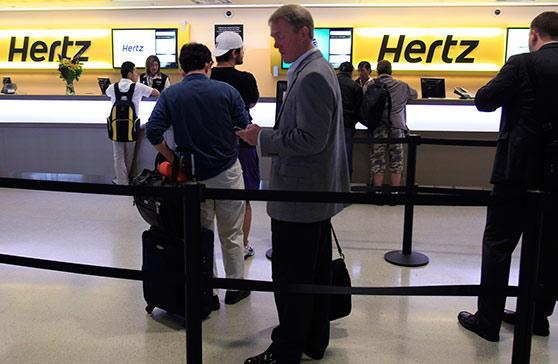 Rentacar return
I returned the car and resolved to take a deep breath and try and be polite about their rubbish car with a broken electric window which was massively inferior to the one I paid for.
Hertz's initial offer was to waive the (outrageous) E20 charge for one of the child booster seats I had rented.  I said they would have to do better than that, and they then claimed erroneously (see above) that the Idea was in the same group as the Focus.
They agreed to waive the other seat charge after I frankly observed that the Fiat Idea was manifestly a smaller and far inferior car to any car in the Hertz D-segment category.  They then claimed it was essentially my fault for accepting the car in the first place – perhaps they would have liked me to pay more for the Focus Estate?
I didn't play the journo card – I like people to treat me as if I was anyone else, and anyway I doubt Italians care that much about British journalists.  I also don't believe front line staff should have to put up with the consequences of their company's incompetence – i.e. irate customers.
I am only publishing this at the urging of colleagues who say that companies that treat their customers badly deserve to be named and shamed.
(After this is published I will send this to Hertz or its PR representatives, and will publish any comment or response they wish to make in an update.)
RESPONSE RECEIVED - SEE BELOW
So I went on my way.  However, as of this moment, I have still paid them for a Focus and got a Fiat Idea.
Lessons learned
1.       Don't accept a car that is not of the same group you paid for, or better.  Even if it's late at night and you are tired and are in a hurry and foolishly trust a big brand company to deliver on its promises.
2.       If you're not sure, ask to see the car before you commit, even if you have tons of heavy luggage and tired screaming children in tow.
3.       Don't assume that a big famous company with a reputation to lose won't try and palm off an old car on you because they think they can.
4.       Don't even think of accepting an offer to pay more for a bigger car as if they are doing you a favour.  Like Hertz, virtually every car rental firm must give you something better if what you have paid for isn't available – it will be in their terms and conditions.
5.       Don't get your hopes up about winning the rentacar lottery; no good can come of it.  But if you don't get what you paid for, complain.  If you do get lucky, celebrate! It could be you.
Hertz's response
Thank you for contacting our PR agency to give us an opportunity to address your concerns. I appreciate your patience whilst we investigated this matter with both the Fleet and General Managers in Hertz Italy.
Firstly, please allow me to apologise for the disappointing experience you had during this rental. I understand that after arriving in Pisa late in the evening, you then had a long drive ahead to the location in which you were staying. Naturally you wanted a comfortable car for you and your young children to make the trip as smooth and quick as possible. I sincerely regret that the branch in Pisa did not provide that comfort for you and your family.
After reviewing the details of the rental, I found you were provided with a U class vehicle which contrasts to the D class that you had reserved months previous. As the D class was not available, the Focus Estate should have been offered to you at no extra cost. As you state in your article, our conditions are clear that if we can't provide the vehicle booked, a vehicle from the next class up will be provided at no extra cost. While the branch provided you a vehicle of similar cost, it was not from the group booked, and therefore did not reflect our conditions above. This issue has been raised to the Branch Manager at our Pisa location, who will address the matter internally with the staff at the branch. Our General Manager of Italy is also aware and will monitor the situation.
Once again, I am sincerely sorry for the inconvenience caused to you and your children. The problems that you experienced with the vehicle that was provided, particularly the issue with the electric window, is completely unacceptable. As a result of your feedback, I can confirm that the faults you highlighted with this vehicle, are being actively addressed.
I can see that the location applied a refund of 48.23Eur from your rental when you returned the car. As a gesture of goodwill, a refund of half your prepaid costs have been applied to the card billed. This refund of 117.51GBP will take 5-7 days to reach the account.
I completely understand that this issue has damaged your faith in our service. I can assure you that your experience was not in keeping with the service that we aim to provide. Should you have any further queries in relation to this matter, please don't hesitate to contact me again.
Yours sincerely,
Hertz Executive Customer Services
Tom's comment:
I'm pleased they have got back to me and I regard this as a fair recompense, and thank Hertz for their attention on this matter.
Tom Evans is the managing editor of MSN Cars, and the head of channels of MSN UK.  He is the current editor of the year in the Guild of Motoring Writers annual awards.

I read your article with great interest, I only wish I had your platform to rage against Hertz. I rented like you via a advance purchase a Hertz rental via Hertz UK in Tenerife. My experience after being supplied with 4 cars with 2, both being Renualt Megane soft tops with brake faults that being in the locations, one at 2300 metres in altitude we're frankly frightening, and upon my return to the Uk finding Hertz UK Customer Services being nothing short of a black hole. This supposed premier car hire organisation in my opinion on my recent experience is not only negligent, but in my case is simply dangerous to the general public. If there is any way of them being brought to account for their actions I would whole heartedly support it.

Hertz's radio campaign at the moment seems to imply that "what you book is what you get" ie they'll be able to provide the exact model, or presumably better, if your first choice isn't available.
I haven't hired a car in years, but occasionally I've hired a van for house moves.  One company tried to get me to take a far larger van than I needed, despite the fact that they had Transit models sitting, apparently available for hire.
I did take the larger van, but went back the next day to swap because it was too large to get anywhere near my new property.  Thankfully they arranged this, although I did get the impression they were doing me a huge favour.
As for hiring a car on holiday, frankly I'd rather not.  Holidays are for relaxing and I'll do anything to avoid being in a car.  You can't fully appreciate the views if you're constantly panicking about how badly the locals drive, while doing your best to avoid them.
Are you sure you want to delete this comment?
Richard Aucock

So committed to car journalism he is Guild Chairman of the Guild of Motoring Writers. He has been writing about cars since he was 15 and is living the dream.
CJ Hubbard

CJ is thoroughly enjoying fulfilling the ambition he's always had to become a motoring writer. Don't ask him about working in retail, though, or he may start to twitch...
Ian Dickson

Ian is the senior editor on MSN Cars, a job that involves planning, writing and editing content and generally keeping the site ticking over day-to-day.
Which of these endangered 1970s and 80s cars would you be saddest to see become extinct?
Thanks for being one of the first people to vote. Results will be available soon. Check for results
Austin Allegro

1,213 votes

Austin Princess

1,941 votes

Hillman Avenger

2,421 votes
Total Responses: 13,019
Not scientifically valid. Results are updated every minute.