Why letting learners onto motorways is such a good idea
Learner drivers will soon be allowed onto motorways, under the guidance of a qualified instructor. And not before time...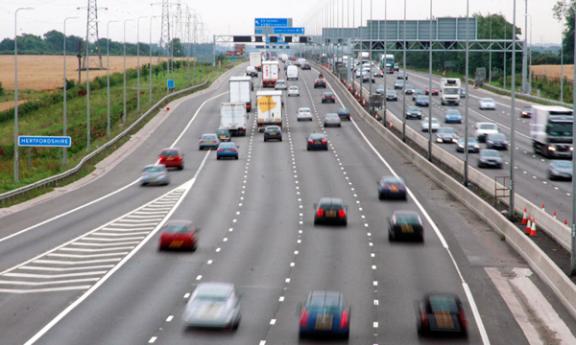 Mike Penning MP, Road Safety Minister, has already made big changes in the Department for Transport. He's stopped the publication of driving test routes, made sure only qualified driving instructors can teach pupils... but his latest shakeup is potentially one of his most significant commonsense moves yet.
Learner drivers to get motorway training
From 2012, driving instructors will be able to take pupils onto the motorway for guidance and experience.
It's amazing that it's taken up to now for this to happen. Amazing because, as the Minister told us this week, it's more ridiculous for it not to be so. He illustrated why it was crazy by using the example of his daughter. She passed her driving test in St Albans, he explained. "But we live in Hemel Hempsted, on the other side of the M1."
After passing her test, she could quite legally have then driven back home on her own – and, instead of crossing over the motorway, accidentally turned onto it and taken her first high-speed drive: yes, less than 5 minutes after passing her test.
For every moment of her time behind the wheel up to then, she had someone sat next to her, telling her where to go. Once she had that vital bit of paper, though, she was on her own. What's to stop her taking a wrong turn and then finding herself on the motorway?
Alien territory, how might she have coped? Would she, through fear, have done something rash? Would she have simply frozen, overwhelmed by this strange new type of road she'd never before driven on? And all because legislation didn't let her venture on there until she had passed a test conducted entirely on roads that were nothing like it. Nonsensical. That's why the Minister has relaxed the rules.
Lesson in panic avoidance
It's not legislation the other way, he explained. Motorway driving is not now compulsory. If it were, those in the Scottish Highlands would be driving for hours just to find a motorway. For some in the UK, it's not relevant, so it is not obligatory.
Instead, the idea is to encourage driving instructors to include some motorway work, where relevant. If a pupil lives near a motorway, part of a lesson may include a run on it – both to give them experience of it but, far more importantly, have someone sat next to them telling them exactly what to do.
Motorway driving is not necessarily complicated. They are straight, traffic flows linearly in the same direction, and junctions are both few and clearly marked. The trick is getting on, changing lane smoothly, looking far ahead and, crucially, not panicking and doing anything rash.
What's a fretful new driver more likely than most to do, though? Yes, panic, through not knowing what to do. Driving lesson motorway runs will, it is hoped, give them the bare basics to ensure this is not the case.
Motorway misconception
There is a common misunderstanding amongst Brits, that motorways are far more dangerous than they actually are. The reality is that they're the safest type of road in the country – according to Eurorap, they are typically four times safer than single carriageways.
However, in a big 2006 survey, Brits reported they assume motorways are almost as dangerous as single carriageway roads, the most dangerous type of road in the UK. Yes indeed: the 'best' type of road in the country is assumed to be as bad as the 'worst' type of road.
Why this is so is unclear: it could be the speeds involved, it could be high-profile motorway crashes that make news headlines... or it could just be fearful drivers worried by the false assumption and general misconceptions about motorway safety.
Whatever the root cause, it all creates an illusion that means many fear driving on motorways. They actively avoid it. When they do have to do it, they panic and drive with terror. Imagine how the Minister's daughter would have felt if she'd have taken the wrong turning. Imagine if YOU had motorway anxiety and did the same?
Motorways are safe, yes, but 70mph speeds are unforgiving if someone is panicking. Things happen fast on them: it is not the place to risk freezing in fear. Which is why the latest move by the Department for Transport deserves so many plaudits.
Exposure therapy
People don't need to be trained in how to be expert motorway drivers. That comes with time and practice, as the basics are arguably far easier to pick up than navigating a city centre ring road.
No, what new drivers need is to have the fear factor of motorways taken away. By exposing them to it, giving them a taster, showing them that the motorway isn't something to avoid at all costs, the stress and anxiety that many have over them may just be mitigated.
It's the exposure theory – prove to people the danger is more assumed than real, and the terror quickly falls away.
Mike Penning MP may just have done the country's parents a favour. From next year, if his daughter were in the same situation after passing her test, and did stumble onto the motorway on her own, the fact she'd actually driven on one means the chances of her panicking and doing something rash would be much diminished.
She might not be the most accomplished person on the motorway, or the fastest, and she'd almost certainly pull off at the very next junction. But it's far more likely that she would cope, thanks to an experienced instructor showing her what to do during one of her lessons.
And really, you can't ask for any more, can you?
---
MSN Cars guide: learning to drive
Are you sure you want to delete this comment?
Richard Aucock

So committed to car journalism he is Guild Chairman of the Guild of Motoring Writers. He has been writing about cars since he was 15 and is living the dream.
CJ Hubbard

CJ is thoroughly enjoying fulfilling the ambition he's always had to become a motoring writer. Don't ask him about working in retail, though, or he may start to twitch...
Ian Dickson

Ian is the senior editor on MSN Cars, a job that involves planning, writing and editing content and generally keeping the site ticking over day-to-day.
Which of these endangered 1970s and 80s cars would you be saddest to see become extinct?
Thanks for being one of the first people to vote. Results will be available soon. Check for results
Austin Allegro

1,211 votes

Austin Princess

1,939 votes

Hillman Avenger

2,419 votes
Total Responses: 12,998
Not scientifically valid. Results are updated every minute.