MSN Cars goes racing: here's 'my' car!
Fresh back from the painters in its new livery the MX-5 is in good company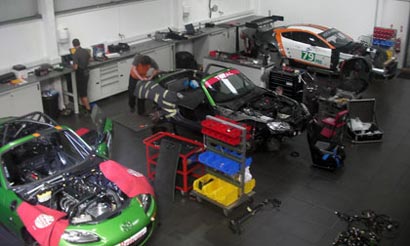 Ahead of
practise on Friday
I thought I'd make contact with 'my' team at Jota Motorsport and find out a little about 'my' car. Team manager Sam kindly emailed me a couple of pics from the workshop, for which the stock phrase hive of activity would seem appropriate. And look what it's sandwiched between!
On the left is the
MX-5 GT
- the grown ups' car - and to the right an Aston Martin Vantage GT2 being prepped for its Le Mans test. So it's in good company!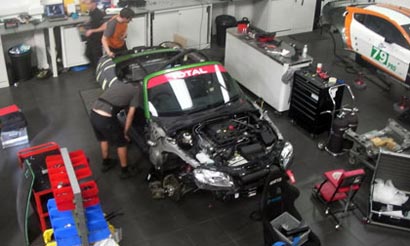 Sam tells me the car is only just back from a big ice race event Mazda held in Sweden back in February. Last week it was stripped and repainted over the weekend in the new green livery to match the GT car. Over the last two days it's been reassembled back into circuit spec with different electronics, a 120-litre fuel tank and the roll cage and other safety equipment. As I write it should be at the Chobham test track for a shakedown before final prep tomorrow. And on Friday I'll be driving it!
Dan
---
Links:
MSN Cars goes racing: it's really happening!
MSN's new race car
Richard Aucock

So committed to car journalism he is Guild Chairman of the Guild of Motoring Writers. He has been writing about cars since he was 15 and is living the dream.
CJ Hubbard

CJ is thoroughly enjoying fulfilling the ambition he's always had to become a motoring writer. Don't ask him about working in retail, though, or he may start to twitch...
Ian Dickson

Ian is the senior editor on MSN Cars, a job that involves planning, writing and editing content and generally keeping the site ticking over day-to-day.
Which of these endangered 1970s and 80s cars would you be saddest to see become extinct?
Thanks for being one of the first people to vote. Results will be available soon. Check for results
Austin Allegro

1,213 votes

Austin Princess

1,941 votes

Hillman Avenger

2,420 votes
Total Responses: 13,010
Not scientifically valid. Results are updated every minute.