Nissan Juke-R: why we should all be glad it's going into production [plus bonus video]
The GT-R powered Juke is now available for very special order, upgraded to 545bhp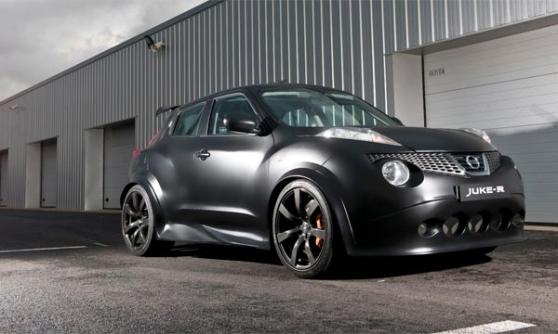 Nissan has confirmed it's now taking customer orders for the Juke-R. Which is a bit of a surprise as this mad mash-up between Juke and GT-R was originally conceived as a "one-off" concept, and apparently never intended for production at all. Though as we'll see, "production" is possibly a misnomer in this particular instance. And its one-off status wasn't exactly accurate to begin with.
Still, Senior Editor Ian's question is whether building such a thing for public consumption is actually a good idea.
To which the obvious response has got to be: of course it is.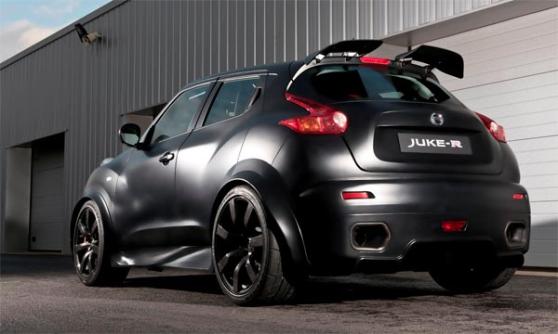 For starters, you need to define your "public". If the rumours are to be believed, Nissan is going to be asking a six-figure sum for every example. Which sounds kind of insane until you learn the machine took its public bow in Dubai, and according to Nissan's Marketing Project Manager for the Juke, Gareth Dunsmore, "people were making offers for the original on the street!"
Anywhere else this might have been dismissed as posturing. But with three firm orders on the table before anyone had even begun shopping for a green light bulb, Nissan clearly found itself with a market for this wild little car.
The pedigree probably helps as much as the performance. Noted racecar constructor RML Motorsport assembled the original pairing – yes, there are already two: one right-hand drive and one left-hand drive – and will be responsible for building the customer versions to order. Amongst many other things, RML's most recent achievements include Chevrolet's World Touring Car Championship-dominat​ing Cruze missiles.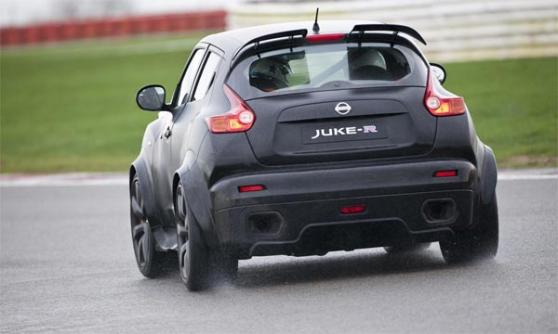 MSN Cars' own Peter Burgess grabbed a go in a Juke-R concept around a rain-soaked Silverstone during the GT-R Track Pack event last week. He came away astonished at just how complete and sorted it feels. You'll be able to read his full impressions next week, but the Juke-R is no piecemeal Frankenstein-type monster.
Consider that – it's quite an accomplishment. As a bonkers attempt at interstellar eyebrow raising, the sheer amount of engineering work involved in getting the GT-R's 3.8-litre twin-turbo V6 and its accompanying all-wheel drive system nestled away within the substantially smaller silhouette of a Juke is something in itself.
To then make it work properly is another level entirely, even if the intelligence of the system apparently meant it did much of the recalibration automatically. Now that is crazy.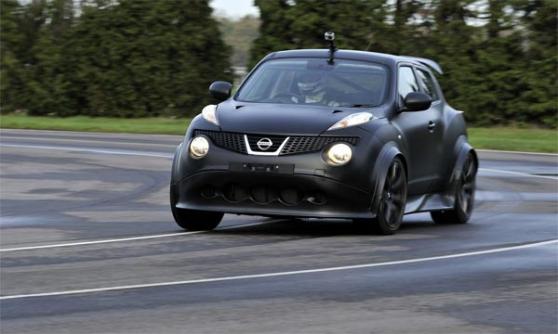 Still. Buyers will be getting a useable small car capable of 0-62mph in no more than 3.7 seconds and 160mph flat out. In fact, the customer versions should accelerate even faster since they get the latest "Model Year 2012" GT-R powertrain that musters a staggering 545bhp; the concepts are based around Model Year 2010 technology, and have just the 485 ponies to deploy.
Either way, what it seems Nissan has got here is a contrivance that defies convention and gets away with it. In this respect, it reminds me of cars like the BMW Z3M Coupé or, perhaps, the Audi Q7 V12 TDI. The Juke-R shouldn't work as an idea, but in reality it obviously does – neatly marrying the opposite ends of Nissan's motoring business in the process.
We should all be glad that this car exists. Even as a concept it implies an enduring level of mischievousness in the automotive industry that even the current impetus on reducing emissions and looking green hasn't entirely managed to eradicate. For Nissan to actually be building them for people to buy is worth a little toast over the dinner table tonight.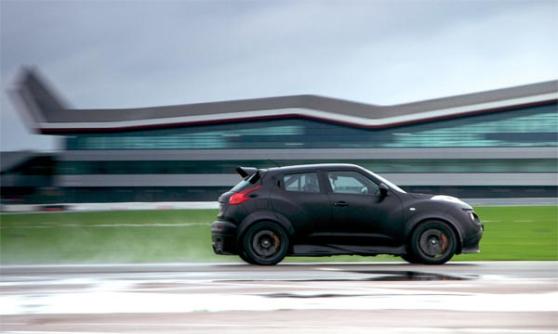 Even if you wouldn't purchase one yourself – though God knows, if you can afford to you've presumably got plenty of other choice metal tucked away in the garage already – you can understand the desire. The Juke-R is the Singer 911 or Frontline MG LE50 of alternative supercars, another exceptional definition of different.
If you do fancy one, and you have got the bank account, you'd best not dither. While Nissan has made no mention of restricting numbers, it is opening the Juke-R order book for four weeks only. It's a limited time offer, then – and one of a type that is surely only going to become increasingly rare.
Enough waffle, here's the slightly cheesy "cinematic" video of it taking on a bunch of supercars in Dubai. Enjoy!
Are you sure you want to delete this comment?
Richard Aucock

So committed to car journalism he is Guild Chairman of the Guild of Motoring Writers. He has been writing about cars since he was 15 and is living the dream.
CJ Hubbard

CJ is thoroughly enjoying fulfilling the ambition he's always had to become a motoring writer. Don't ask him about working in retail, though, or he may start to twitch...
Ian Dickson

Ian is the senior editor on MSN Cars, a job that involves planning, writing and editing content and generally keeping the site ticking over day-to-day.
Which of these endangered 1970s and 80s cars would you be saddest to see become extinct?
Thanks for being one of the first people to vote. Results will be available soon. Check for results
Austin Allegro

1,210 votes

Austin Princess

1,937 votes

Hillman Avenger

2,415 votes
Total Responses: 12,984
Not scientifically valid. Results are updated every minute.