Review: Lego Unimog U400 (8110)
Who says Lego is for kids? Etc...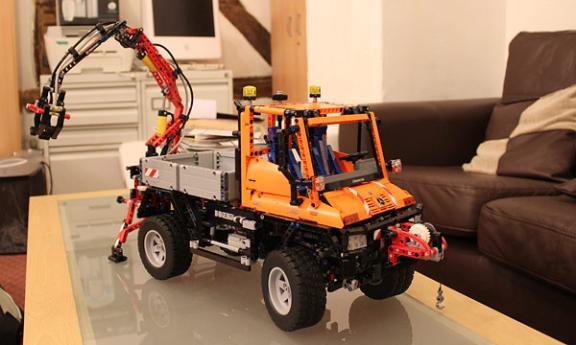 I'm not going to pull any punches here – I love Lego. I grew up with it. Every single piece I was ever given as a child is still currently in my parents' loft. It is a fabulous toy. Even now, as a supposedly sensible adult, I find myself inexorably drawn to the colourful little plastic bricks, the axles and the sprockets – there is something just incredibly compelling in the way that something so simple can create objects that are intelligent and complex.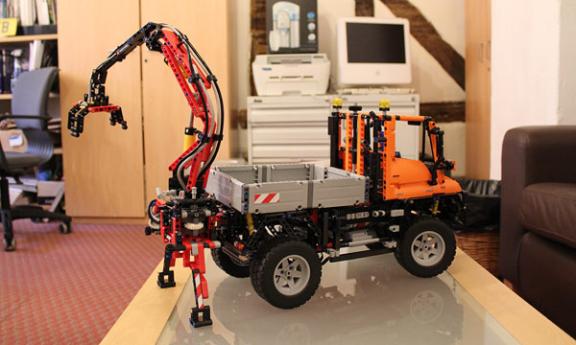 Given I write about cars for a living you won't be surprised to learn I especially like the vehicle kits – and 2011 has seen the introduction of some particularly funky stuff. The Technic Supercar Dan reviewed earlier in the year, for example, and the fabulous-looking Volkswagen Camper. But both of those pale in comparison to the kit I'm lucky enough to have sat on the desk right next to me here: Lego's rendition of the iconic Mercedes-Benz Unimog U 400.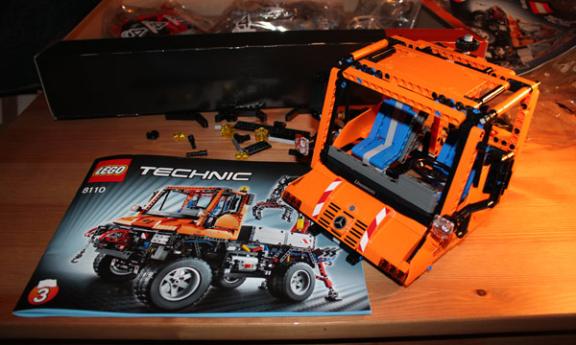 This is awesome. A Technic kit (number 8110 for anyone who's counting) aimed at 11-16-year-olds, the Lego Unimog replicates a number of authentic features – four-wheel drive, firing pistons, impressively articulated suspension – with some of the most sophisticated elements Lego currently has at its disposal. At its heart, cleverly incorporated within the chassis, is an electric motor and a battery box, which together drive the gears that control a winch and rotate a grab arm, as well as powering a pneumatic ram system that allows the arm to move up and down and grasp things.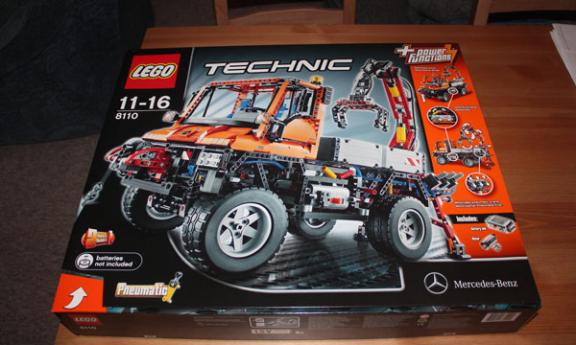 Despite being very nearly twice the recommended maximum age (ahem), building the Unimog is not the work of a moment. So if you're looking for something to keep the kids – or your other half – quiet for several hours, possibly days, this Christmas then this kit or another like it is certainly a viable option. Clearly, it demands some commitment; but the beauty of Lego is as much in the assembly as it is the finished product, and the Unimog is a remarkable embodiment of both.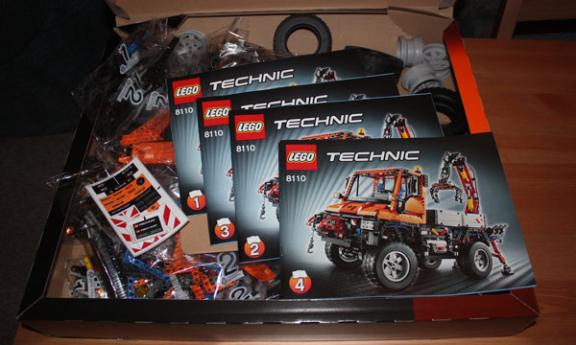 The box is inevitably massive, and the number of bags of bits – never mind the number of bits individually (2,047 if you must know) – is initially daunting. But these rustling transparent packages are numbered in sequence, and the familiar Lego pictorial instruction booklets have an immediately calming effect. Even if there are four of them. This format of instruction is surely the winner of several major design awards in itself – and if not it ought be – not to mention a small stroke of genius in completely avoiding the need for multiple language translations. There are no words, only gorgeous graphic design.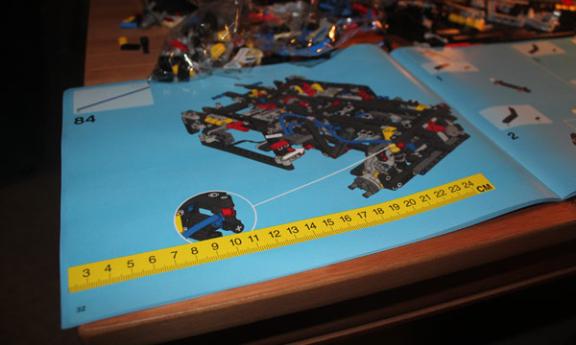 I had forgotten just how soothing it is to build with Lego, especially on this scale. With only an hour or so to spare over several nights, the Unimog became a kind of meditation for me. And as you go along, pondering and picking the individual pieces, attempting to guess exactly what larger component in a compound whole you're currently constructing, you learn about gearboxes, piston engines, differentials (no less than three of 'em, in this case), four-wheel drive, pneumatics. If you're a parent looking to encourage your offspring's ability to assimilate and process information very quickly, as an adult looking back it's evident to me that Lego provides a lighthearted but serious and substantial tool for achieving exactly that.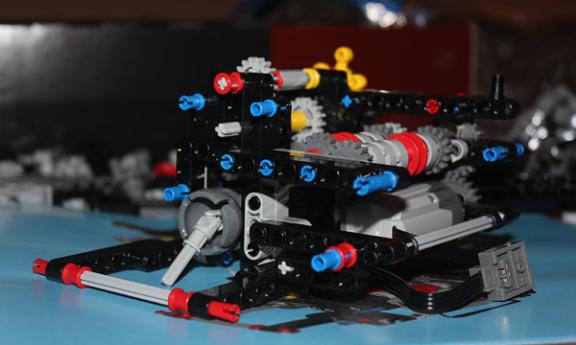 It's amazing to consider the thought that has gone into the design of this Unimog. Sections that initially seem flimsy are swiftly reinforced, with an economy of craft that somehow also comes to resemble the real machine with authentic accuracy. But just to make things even more impressive, like the real thing the Lego version is modular.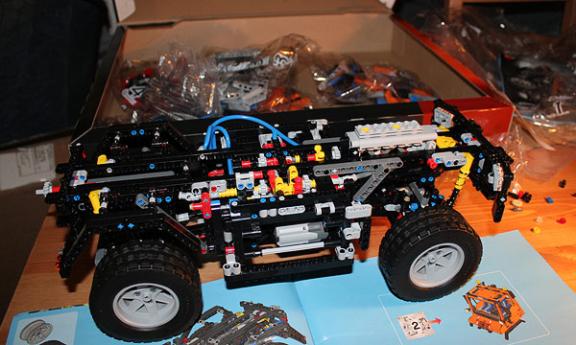 The load bed unclips, leaving a framework for attaching alternative designs, but even smarter, there's a motor drive and an air supply to the front and the rear - meaning you can easily swap the grab arm and the winch into opposite positions, or substitute something else entirely; there are instructions available online for creating a giant snowplough.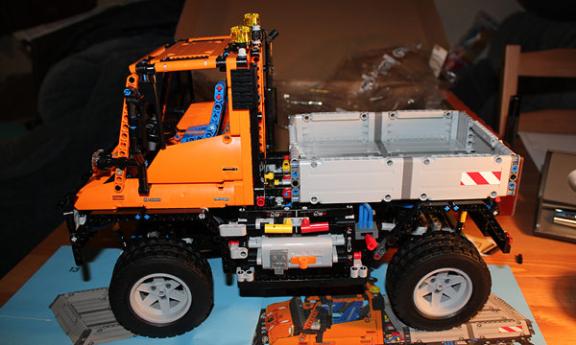 This is a wonderful, wonderful object. Every so often I catch myself staring at it. There's satisfaction there – I made that – but also marvel, how exactly does anyone design these things? Plus at 48cm long and 30cm tall, it's such a substantial, chunky physical model machine.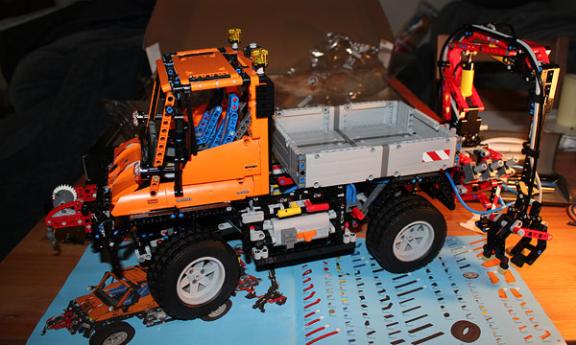 The Lego Unimog isn't cheap – RRP is £154.99; it's available via the Lego online shop right now – and I can't promise your significant other will be as keen on it as you are (it's not a co-incidence this one is residing in the office…). But even so, the value to enjoyment ratio is firmly tipped into brilliant.
Richard Aucock

So committed to car journalism he is Guild Chairman of the Guild of Motoring Writers. He has been writing about cars since he was 15 and is living the dream.
CJ Hubbard

CJ is thoroughly enjoying fulfilling the ambition he's always had to become a motoring writer. Don't ask him about working in retail, though, or he may start to twitch...
Ian Dickson

Ian is the senior editor on MSN Cars, a job that involves planning, writing and editing content and generally keeping the site ticking over day-to-day.
Which of these endangered 1970s and 80s cars would you be saddest to see become extinct?
Thanks for being one of the first people to vote. Results will be available soon. Check for results
Austin Allegro

1,223 votes

Austin Princess

1,954 votes

Hillman Avenger

2,434 votes
Total Responses: 13,133
Not scientifically valid. Results are updated every minute.