Toyota GT86: speccing the light fantastic
So if CJ did buy one, what options would he actually want?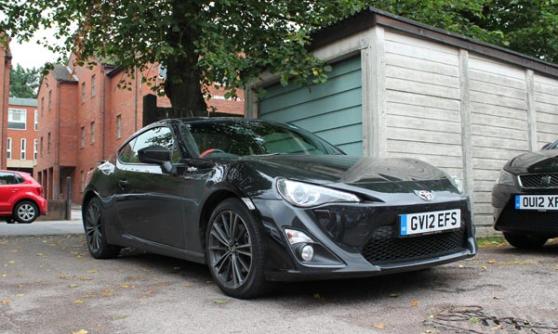 For two cars that would suit me so well to come along in the same year is incredibly unusual. What's even more surprising is that the more I think about it the more I might just choose the Toyota over the Porsche. This naturally got me to pondering my perfect GT86 specification.
Priorities for me would be a decent set of seats and a limited slip differential. For this I would happily trade the painted bumpers and the rear wing – Toyota does in fact offer such pared back bodywork on some cars, but they're aimed at tuners in Japan. It's unlikely we'll ever see them over here.
There's nothing particularly wrong with the standard sports seats, as it happens. But if I was to actually able to spend money on this kind of thing, I've always really fancied a set of those carbonfibre-backed Recaros – you know the ones, Renaultsport loves 'em, too.
I'd also happily forgo the rear seat altogether – there's no legroom back there, after all – but I rather suspect this might upset Toyota's artfully set front/rear weight distribution. Hmm. Maybe a roll cage would be a suitable substitute.
While it's tempting to go all hardcore and bin off the air conditioning, the truth is this is really rather handy to have in any kind of car, let alone an everyday one. I could easily live without the "Touch & Go" satnav system – not because it isn't any good (it's rather clever), but because it's less than necessary. I'd fit a decent set of door speakers and a good quality source with an iPod connector instead. All the other speakers seem surplus to requirements here; they certainly don't make the stock stereo sound terribly good.
Daydreams about exotic carbon intakes and rasping exhausts aside, the final tweak would perhaps be a different set of – lightweight – alloy wheels. It being somewhat bizarre that Toyota and Subaru have chosen to use the same (rather ugly…?) standard ones.
The modest Prius tyres that help define this car would be staying, though. Of course.
Toyota GT86: what a difference a week makes
Are you sure you want to delete this comment?
Richard Aucock

So committed to car journalism he is Guild Chairman of the Guild of Motoring Writers. He has been writing about cars since he was 15 and is living the dream.
CJ Hubbard

CJ is thoroughly enjoying fulfilling the ambition he's always had to become a motoring writer. Don't ask him about working in retail, though, or he may start to twitch...
Ian Dickson

Ian is the senior editor on MSN Cars, a job that involves planning, writing and editing content and generally keeping the site ticking over day-to-day.
Which of these endangered 1970s and 80s cars would you be saddest to see become extinct?
Thanks for being one of the first people to vote. Results will be available soon. Check for results
Austin Allegro

1,223 votes

Austin Princess

1,954 votes

Hillman Avenger

2,435 votes
Total Responses: 13,136
Not scientifically valid. Results are updated every minute.