Why Vauxhall Ellesmere Port should survive
Ellesmere Port is a highly efficient production facility for global giant General Motors. Talk that it is under threat is not warranted.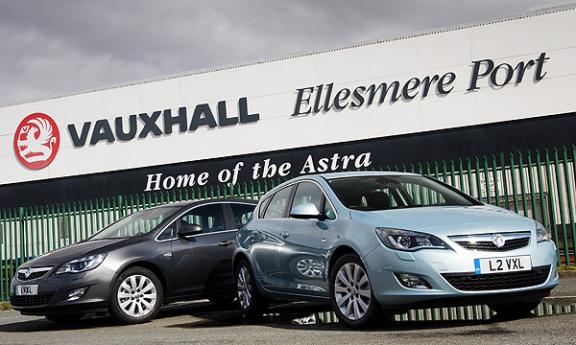 GM has today announced record profits that have been hit by huge and growing losses in Europe - the division lost $600 million in the final three months of 2011 alone. Now, it seems, enough is enough.
All options are on the table, including closing one of GM's 10 European car factories. However, despite speculation, this should not include closing the Vauxhall Ellesmere Port plant in Cheshire.
GM in profit despite European losses
Far from being a liability, the Vauxhall plant is actually a shining light in GM's European production arsenal, following tireless efforts by all associated with the UK division.
MSN Cars met with Vauxhall MD Duncan Aldred a few weeks before the annual results were announced, where he spoke of the Cheshire plant's many attributes.
Ellesmere Port, he explained, is one of GM's best-performing plants in Europe, and has an excellent all round track record. "The cost per car produced is competitive and the factory approaches world-class standards in some areas.
"With the launch of the Astra Sports Tourer, Ellesmere Port achieved the best launch in terms of quality and the speed of hitting volume during production ramp-up." This achievement is among the finest ever seen at GM.
Ellesmere Port efficiency
Figures uncovered by the FT show that Ellesmere Port's 2,100 employees produced 187,000 cars in 2010. The Bochum plant in Germany needed 3,100 employees to produce 160,000 cars. Russelsheim in Germany employed 3,500 people and produced 180,000 cars.
The Ellesmere Port factory currently builds Sports Tourer estate versions of the Astra. Last year, it built 140,000 models, from a potential capacity of 250,000 cars (and 91 per cent of them were exported to Europe). Despite record line rates of 47 cars per hour in 2011, it is running under capacity – but it is not alone here.
Most car factories in Europe are underutilised, said Aldred. "GM Europe's original restructuring plan was based on a European market of 20 million cars. Now, analysts are estimating a market of 18 million to 19 million vehicles."
GM Europe thus needs to remove capacity of a few hundred thousand cars a year, the equivalent of "a plant" said Aldred. However, rationalisation of this sort may actually create opportunities for other plants to fill in any production gaps created.
Vauxhall is thus hoping it can win more business for its Ellesmere Port plant in this way. So, far from threatening the future of Ellesmere Port, the review by GM could lead to more business for the highly productive and efficient car plant.
Britain's strong support of GM
There is more reason why GM may look favourably on the UK. UK consumers strongly support GM: the firm's market share is 12 per cent here, the biggest in Europe. GM's German market share is 7.6 per cent.
Ellesmere Port also enjoys strong support from trades unions. These have worked closely with Vauxhall to help established flexible work patterns, an approach Aldred praised.
Such "massive" flexibility has helped further reduce costs for the plant by helping it respond to market demand, pragmatism recognised by Aldred.
This is highly favoured by company officials who need factories to respond rapidly to market demands.
UK 'a natural hedge'
Currency markets also mean the UK is "a good place to be", says Aldred.
Sterling has depreciated almost 40 per cent between 2000 and 2010. This means British-built cars are cheaper for Europeans to buy, which is why car companies are exporting so many models into the Eurozone.
The UK thus provides a natural hedge against the exposure of European firms to the Euro. The benefits of this are particularly stark at the moment, and proves the benefits of having such a manufacturing base staffed by highly flexible workers outside the Eurozone.
This is why nine in 10 Astra Sports Tourers built in the UK were exported to Europe last year. 
Currency markets will always fluctuate: having a manufacturing base in the UK ensures companies can remain competitive whatever the relative performances of Sterling and the Euro. This is what GM is currently benefitting from and continuing to have this 'hedge' will serve it well in the future too.
The obvious risk is that any weakness in the European market could cause demand to fall and UK car plants to flounder. This is why UK business leaders are watching developments in the Eurozone with particular interest. However, if Sterling were to appreciate against the Euro, car firms could increase UK allocation of cars from its factories, again ensuring they remain competitive.
Ellesmere Port is a GM Europe success
Aldred says Ellesmere Port is a facility that "approaches world class". Its workers are flexible, its cars are in demand, its staffing levels relatively low and its productivity high.
It does not deserve to be at risk. Here's hoping GM's review agrees with this. 

MSN are obviously under the control of political partners, 3 times now I've tried to make a post, but it obviously doesn't agree with MSN's political views. Nothing in what I wrote was offensive.
So I'm going to try for the 4th time;
GM can announce record profits but they are American, in the times we are in unemployment is worldwide and in America maybe worse than many. But for GM to consider closing Ellesmere Port is rediculas. GM need to consider who of the other European Countries they are considering is not in allegiance with America.
Are you sure you want to delete this comment?
Richard Aucock

So committed to car journalism he is Guild Chairman of the Guild of Motoring Writers. He has been writing about cars since he was 15 and is living the dream.
CJ Hubbard

CJ is thoroughly enjoying fulfilling the ambition he's always had to become a motoring writer. Don't ask him about working in retail, though, or he may start to twitch...
Ian Dickson

Ian is the senior editor on MSN Cars, a job that involves planning, writing and editing content and generally keeping the site ticking over day-to-day.
Which of these endangered 1970s and 80s cars would you be saddest to see become extinct?
Thanks for being one of the first people to vote. Results will be available soon. Check for results
Austin Allegro

1,222 votes

Austin Princess

1,949 votes

Hillman Avenger

2,431 votes
Total Responses: 13,092
Not scientifically valid. Results are updated every minute.