Mercedes AMGs v Goodwood – part two of five
This time, Sean tries his hand at a very special 'Black' ops mission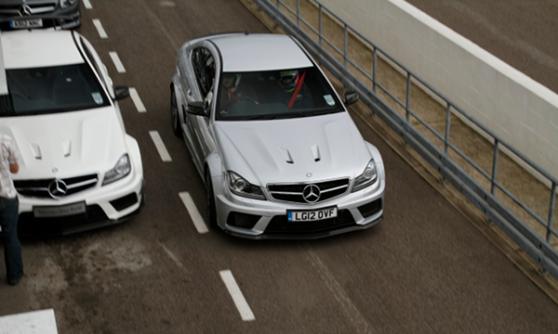 Following my initial sighting laps behind the wheel of the SLS, it was time to jump into something as equally thunderous in its disposal of burnt hydrocarbons – cue a family coupé boosted to over 500hp…
Mercedes AMGs v Goodwood – part one of five
Time for a quick one
Following my first foray around Goodwood in the SLS, once I've logged a good chunk of sighting laps and I know which way the place goes I'm feeling more confident. Time for a go in the C 63 AMG Black Series then, naturally…
First Drive: Mercedes-Benz C63 AMG Black Series
Walking up to the Black in Goodwood's confined pit lane you can feel menace exuding from the car – even in what would be plain-Jane silver on any other regular Merc rep mobile.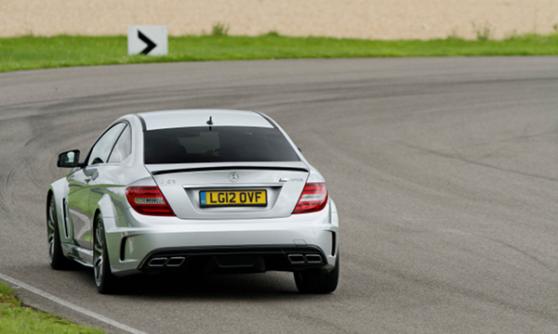 Not here. The moment you fire the car up you realise it's an animal. This is a vehicle sporting a 517hp 6.2-litre V8 dropped into a mid-size coupé.
The spec sheet makes for mental reading – 0-62mph in 3.9 seconds with the Track Pack fitted, and an electronically-limit​ed 186mph top speed – it's not your average C-Class.
If the on-paper stats suggest a significant turn of speed, the on-track excursion confirms it's ballistically quick – but you'd have to have a cursory glance at the velocity dial now and again to confirm things, such is the Black Series' ability to travel warp speeds in decent refinement.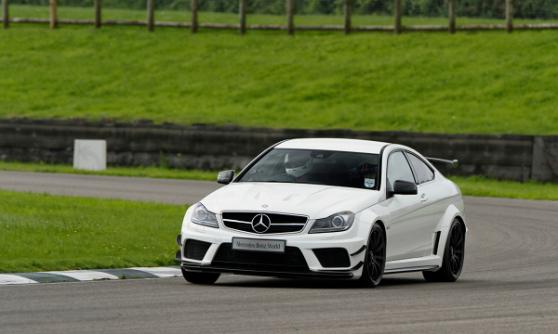 Maybe it's because the rolling undulations of the predominantly flat airfield circuit takes the sting out of the three figure speeds – or maybe it's because the Black's engine is so tractable, delivering it's power in a welcomingly smooth and linear fashion – that produces the speed-dampening effect.

Or, maybe it's that the agro looking Benz isn't quite as firm as you might expect, or as it's steroidal exterior suggests.
Don't get me wrong; it's stiff. But there's a nice level of compliance to the suspension, and it's well balanced in terms of controlling roll but providing enough feedback to get an idea for how much grip there is.
It inspires confidence. In a car as willing to do an impression of a Belisha beacon with its traction control light as the Black is, that's important.
The systems are good though and always intervene with gentle guidance – it's restrictive, but it'll keep you out of the scenery.
You can drive around the nannying electronics though. Such is the massive swell of torque from the motor you can always leave it a gear higher and let the big-cube engine drag you out of the turns. It gives the tyres a welcome break, too.
Combined with its exploitable and forgiving chassis, and in spite of its reputation (we'd never say it's benign as the car will go gratuitously sideways at the drop of a hat – and certainly another gear ratio), this makes the Black Series a better car for having slightly less harshly defined limits.
It's a great car the Black – an MSN five-star favourite in fact. And far from being the unruly bruiser it looks like, with its wide wheel arches, angry front splitter and showy rear wing, it's actually a properly usable car combining massive on-track performance and refined road car potential.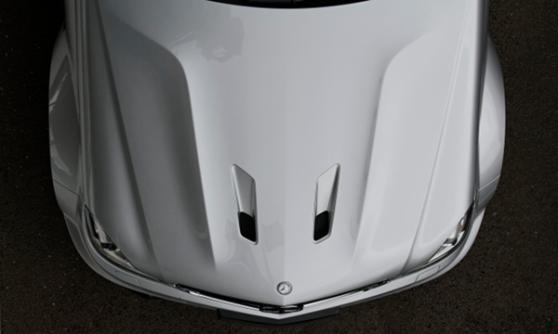 Around the track the amalgamation of all the qualities produced an experience that wasn't nearly as daunting as my first impression may have suggested. In fact, the only bad point was giving it back to replenish its tank.
To be honest, I think Mercedes needs to check the car over before it goes back out – I'm sure there must be a hole in the fuel tank…
If you hadn't gathered, the C 63 AMG Black Series Coupé impressed. From here the rest of AMG's offerings had a lot to live up to. Check back tomorrow to find out how and why I went from underwhelmed to overwhelmed in just 2.4 miles.
Richard Aucock

So committed to car journalism he is Guild Chairman of the Guild of Motoring Writers. He has been writing about cars since he was 15 and is living the dream.
CJ Hubbard

CJ is thoroughly enjoying fulfilling the ambition he's always had to become a motoring writer. Don't ask him about working in retail, though, or he may start to twitch...
Ian Dickson

Ian is the senior editor on MSN Cars, a job that involves planning, writing and editing content and generally keeping the site ticking over day-to-day.
Which of these endangered 1970s and 80s cars would you be saddest to see become extinct?
Thanks for being one of the first people to vote. Results will be available soon. Check for results
Austin Allegro

1,213 votes

Austin Princess

1,941 votes

Hillman Avenger

2,421 votes
Total Responses: 13,019
Not scientifically valid. Results are updated every minute.