Zammo Cabs – the taxi service money can't buy
Ian Dickson writes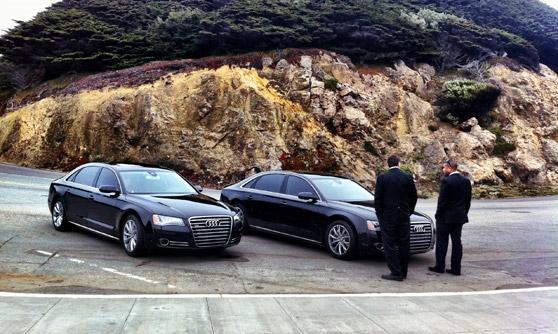 It was during a causal chat one evening at a fancy do in London when I mentioned to Audi UK's PR chief that I was off to get married in a few months' time.
"We'll sort the cars," came Jon Zammett's enthusiastic and unexpected response. Brilliant, I thought, bar one small issue – the wedding was taking place in San Francisco, California. It's well known that Audi goes the extra mile in pushing its brand, but surely this was several thousand miles too far?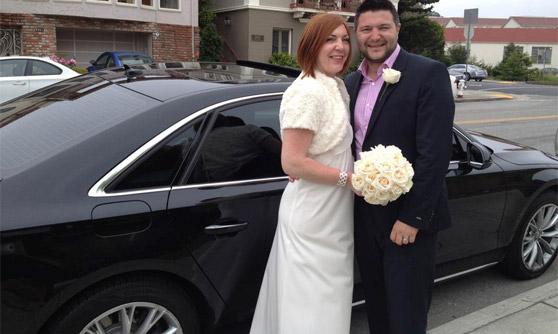 "That might not be a problem," retorted Zammo as he is known affectionately in the industry, with a smile that made you think the impossible was possible.


And so it was, because six months later, outside my hotel in San Francisco, sat two gleaming black Audi A8s with drivers suitably attired in smart Men in Black outfits ready to whisk my bride-to-be, myself and our guests off to the venue.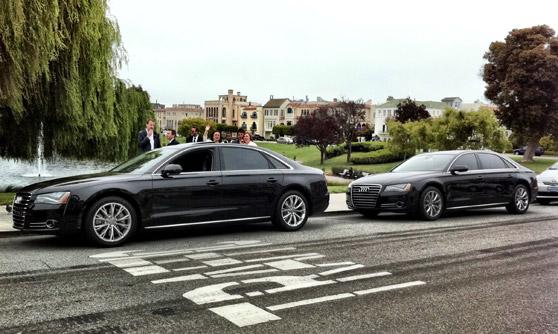 For a day we felt like celebrities, being chauffeur driven around San Francisco's most famous landmarks like the Kardashians or a Hollywood A-lister, its unassuming driver racing out to open the door for us as soon as we stopped and attracting curious stares from passers-by.


In the UK the A8 is the red carpet car of choice, with everyone from film legends to reality stars to sports heroes spilling out of them and onto the red carpet in front of thousands of camera lenses and millions of bulging celebrity-obsessed eyes. Audi has a fleet of these stretched expresses ready to whisk the great and the good to a film premiere, a Royal event or even a wedding.


Jeremy Clarkson talked of this in a recent column and branded Mr Zammett a genius for the way he has worked his brand into popular culture.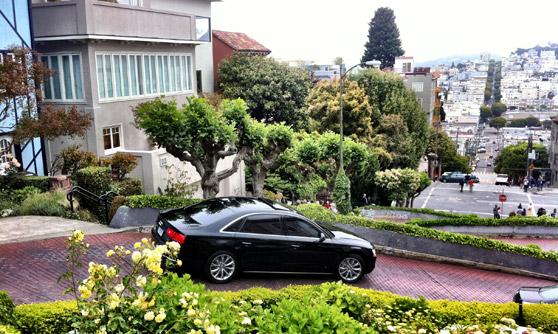 The A8 is the perfect car for the job, too. A Rolls-Royce, you might be thinking, surely has more celeb 'curb' appeal, but it is far too flash and vulgar. A Maybach is for Middle Eastern diplomats with too much oil money and the BMW and Mercedes limos are a little, too, how shall I put this… plain!


No, the A8 is understated but elegant, but wait until you climb aboard because no other car bar a Roller can come close to the attention to detail of the fixtures and fittings. While the Rolls-Royce Phantom gives the impression of a stately ballroom on wheels, the A8 is contemporary and sophisticated, with velvety soft leathers,  modern woods and brushed aluminium. Two of the three rear seats also move independently of one another, so I can be chilling back like a hungover rock star while my passenger can sit upright like a prom princesses.


TVs, on-board wi-fi, massaging seats, privacy blinds and sound-deadening double glazing mean every journey is as soothing as a CD of whale song.


If the star is a car, it is most certainly the Audi A8.
Richard Aucock

So committed to car journalism he is Guild Chairman of the Guild of Motoring Writers. He has been writing about cars since he was 15 and is living the dream.
CJ Hubbard

CJ is thoroughly enjoying fulfilling the ambition he's always had to become a motoring writer. Don't ask him about working in retail, though, or he may start to twitch...
Ian Dickson

Ian is the senior editor on MSN Cars, a job that involves planning, writing and editing content and generally keeping the site ticking over day-to-day.
Which of these endangered 1970s and 80s cars would you be saddest to see become extinct?
Thanks for being one of the first people to vote. Results will be available soon. Check for results
Austin Allegro

1,213 votes

Austin Princess

1,941 votes

Hillman Avenger

2,421 votes
Total Responses: 13,019
Not scientifically valid. Results are updated every minute.